Tregaskiss Expands TOUGH GUN(TM) ThruArm(TM) G2 Series Robotic MIG Gun Offering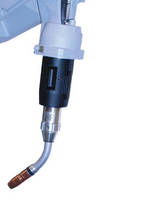 WINDSOR, Ontario - Tregaskiss has expanded its TOUGH GUN(TM) ThruArm(TM) G2 Series of robotic MIG guns to include configurations for robots from ABB, FANUC, KUKA and OTC. The series incorporates superior alignment features that help maintain tool center point (TCP), ensuring consistent and reliable welding performance.

The TOUGH GUN ThruArm G2 Series also includes the exclusive Low-Stress Robotic (LSR) Unicable technology from Tregaskiss. Designed specifically for today's through-arm robotic welding systems, the LSR Unicable includes a rotating power connection that relieves stress caused by routine cable torsion, lessening the frequency of cable changeover and reducing the associated downtime. The unicable also features protective conduit to shield the cable components from harsh welding environments. Tregaskiss guarantees the LSR Unicables with a 2-year limited warranty.

Wire Brake, Air Blast and TOUGH GUN I.C.E.(TM) options are available for select models of the TOUGH GUN ThruArm G2 Series. The TOUGH GUN I.C.E. hybrid feature adds the benefit of water-cooling to the series. This technology circulates water externally to the nozzle, keeping front-end consumables running cooler and lasting longer.

The TOUGH GUN ThruArm G2 Series uses the Tregaskiss Common Consumable Platform, based on the company's TOUGH LOCK(TM) Consumable System and QUICK LOAD(TM) Liners. These products are common across Tregaskiss Semi-Automatic, Automatic and Robotic MIG Guns, allowing your customers who have multiple styles of guns to maintain a lower overall inventory of welding consumables.

About Tregaskiss

For more information on Tregaskiss Products, call 1-877-737-3111 or fax 1-877-737-2111 (in Canada and USA); write Tregaskiss, 2570 North Talbot Road, Windsor, Ontario, Canada, N0R 1L0; email info@tregaskiss.com or visit Tregaskiss.com. Outside North America, call +1-519-737-3000 or fax +1-519-737-2111.

Tregaskiss is an industry leader in the development and manufacturing of MIG welding guns and peripherals, and offers its products worldwide. Its brands include TOUGH GUN(TM) Manual, Robotic MIG Guns and Peripherals, TGX(TM) MIG Guns and TOUGH GARD(TM) Anti-Spatter. Tregaskiss is a wholly owned subsidiary of Illinois Tool Works Inc. (ITW), Glenview, Ill. ITW is a diversified multinational manufacturer of highly engineered components, assemblies and systems.


More from Machinery & Machining Tools