Transition Networks Launches Managed Gigabit Ethernet PoE Switch with 52 Gbps Switching Capacity
Press Release Summary: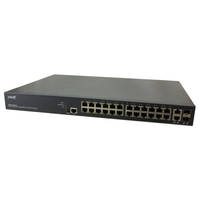 Transition Networks' SM24TBT2DPA Managed Gigabit Ethernet PoE Switch provides (24) 10/100/1000 copper ports and (2) 100/1000 dual speed SFP/RJ-45 combo ports. Unit comes with dual hot-swappable 100-250 VAC power supplies and offers 1560 W PoE output. The switch features Auto Power Reset option to automatically restart attached devices during power outages and device management system for detecting and monitoring luminaire in LED lighting applications. Unit can be operated in 0-40°C temperature and is compliant to IEEE 802.3bt PoE++ and IEEE 802.3af PoE standards.
---
Original Press Release:
Transition Networks Announces 24-Port Managed Gigabit Ethernet PoE++ Switch for Use in Intelligent LED Lighting Applications
Layer 2 Managed Switch Delivers Up to 90 Watts Per Port Offering Support for Higher Power Needs
MINNEAPOLIS, MN - June 20, 2018 - Transition Networks, Inc., a leading provider of edge connectivity solutions, today announced its 24-port Managed Gigabit Ethernet Power-over-Ethernet++ (PoE++) Switch (SM24TBT2DPA), a high performance Layer 2 managed switch with 52 Gbps switching capacity. This switch is ideal for use in Intelligent LED lighting, digital signage and other applications with higher power needs.
Utilizing PoE++ switches for Intelligent LED lighting is an emerging trend that leverages low-voltage PoE for lower lighting installation costs and provides a data connection that makes it possible to control the on/off, brightness, color temperature and hue for luminaires. The soft reboot feature on the SM24TBT2DPA switch allows a warm reboot of the switch without affecting the PoE output to the attached powered devices, thereby providing continuous lighting even during firmware upgrades. While the SM24TBT2DPA is ideal for this application, it can also be used to supply power and connectivity to other building IoT devices such as access control, digital signage, wireless access points (WAPs) and surveillance systems.
The switch provides (24) 10/100/1000 copper ports with IEEE 802.3bt PoE++ capability and (2) additional 100/1000 dual speed SFP/RJ-45 combo ports. The SM24TBT2DPA supplies 60 Watts of power on all 24 ports, or 90 Watts of power on 16 ports at the same time. The switch features a hot-swappable dual 100 – 250VAC power supply and can provide up to 1560 Watts PoE output with an optional secondary power supply.
The switch features Transition Networks' Auto Power Reset (APR) to automatically restart the attached device in case of power outages or other glitches, and DHCP per port to allow attached devices to always get the same IP address on a per port basis. The switch also features Transition Networks' Device Management System (DMS) which is used to detect and monitor the luminaire in LED lighting applications.
"The SM24TBT2DPA is an ideal switch for intelligent lighting, with its modular power supply that can provide the power required for even the highest power LED lighting installation. Our DMS capabilities provide the network manager with additional control and management of the smart lighting system," said Anita Kumar, Director of Product Management at Transition Networks. "Key features such as soft reboot and auto power reset ensure the LED lighting can be easily managed with maximum uptime."
The SM24TBT2DPA is compliant with IEEE 802.3bt PoE++ (Draft), IEEE 802.3at PoE+ and IEEE 802.3af PoE standards and has an operating temperature of 0 – 40°C.
The SM24TBT2DPA switch is available now. For more information, visit www.transition.com.
About Transition Networks, Inc.
Transition Networks provides edge connectivity solutions to advance intelligent networks globally for enterprises, integrators, service providers, federal agencies, and the military. Addressing the demands of smart city and hybrid networks, our PoE switches and converters, adapters, and optics integrate easily into smart network applications in commercial and hardened environments. We are a U.S. based company known for expert customer-centric service and built to last, TAA compliant products with 30 years of experience serving customers in 70 countries, including more than two thirds of the Fortune 100 companies. Transition Networks is a Communications Systems Inc. company (NASDAQ:JCS).
More from Laboratory and Research Supplies and Equipment