Transducer Launches TRPI-2440L(G) Piezo Impact Switch That is Immune to Environmental Stresses and Conditions
Press Release Summary: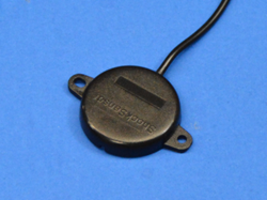 The TRPI-2440L(G) Piezo Impact Switch is designed to identify pressure and changes in impact. The device features an output voltage of 40 mVp/G, capacitance of 12000 pF +30% and an insulation resistance of 100 MΩ Min. The switch can be operated in -20⁰C to +70⁰C temperature range and is offered in 24 mm diameter housing. The piezo crystal is enclosed in a sealed plastic housing that allows it to be used in liquids such as oils in restaurants.
---
Original Press Release:
Transducers USA Introduces New Impact Switch for Pressure Sensing
Transducers USA, an industry leading supplier of audible signal devices, has announced the introduction of a new piezo Impact Switch that functions as a pressure sensor.
ELK GROVE VILLAGE, ILL. (PRWEB) NOVEMBER 06, 2018 - The core piezo disc in the new Impact Switch emits an electrical signal when any pressure is placed on the device. The new switch can also identify changes in movement by impact. Also referred to as a "shock sensor," Transducer USA's new Impact Switch can convert the shock of impact to an electrical signal.
In addition to functioning as a switch, the new Model TRPI-2440L(G) can also be used as a receiver. The piezo disc can receive an RF signal, which can cause it to vibrate and emit an alarm-type sound.
The piezo crystal in the new Impact Switch is enclosed in a completely sealed plastic housing, enabling it to be used in liquids, such as cooking oils in restaurants.
As a solid-state device, the TRPI-2440L(G) is immune to most environmental stresses and conditions and will last much longer than capacitance or mechanical switches. The vibrating piezo is the only moving part in this Impact Switch, which provides for a long service life.
The housing for the new Impact Switch includes mounting flanges and a set of lead wires with terminal lugs.
Specifications for the new Impact Switch from Transducer USA: 
Output Voltage:                        40mVp/G typ. (25⁰C, 20MΩ Load, 10Hz-1KHz)
Capacitance:                            12000pF +30% (25⁰C, 1 KHz)
Insulation Resistance:              100MΩ Min.
Housing Material:                      ABS
Operating Temp. Range:          -20⁰C to +70⁰C
Storage Temperature Range:   -30⁰C to +80⁰C
Weight (with wires):                   24.6g
Housing Diameter:                    24mm
For more information on the new TRPI-2440L(G) Impact Switch, please visit: http://www.tusainc.com.
FREE samples of the new TRPI-2440L(G) Impact Switch are available to editors upon request. Please contact Joe Sieracki at 847-956-1920.
About Transducers USA
Transducers USA produces quality audible signal devices at very competitive prices for Original Equipment Manufacturers. The company manufactures a comprehensive line of audio indicators and transducers in piezo and electro-mechanical varieties, including microphones, speakers, and ultrasonic components.
Products are manufactured in ISO-9000 and RoHS certified facilities in Asia. Transducers USA provides customer support and engineering assistance from their local headquarters in Elk Grove Village, IL. Over 1,300 production workers and 100 specialized audio engineers support Transducers USA.
In addition to hundreds of standard audible signal devices, custom products are also available at Transducers USA, based on either a customer's design or one created by Transducers USA engineers. CAD drawings and tooling will be provided at no charge for qualified orders.
Distributors and sale representatives are utilized as a channel to market. Local contacts can be found on http://www.tusainc.com.
Contact Information
Joe Sieracki
Transducers USA
+1 847-956-1920
Steven Bork
Nova B2B Marketing
8477786468
More from Materials