TOUGH GARD Anti-Spatter Liquid Has New Look and Packaging - Offers Same Excellent Performance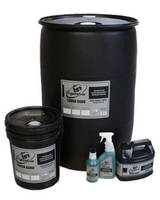 WINDSOR, Ontario - Tregaskiss has given its trusted TOUGH GARD(TM) Anti-Spatter Liquid a new look, including updated labeling on all packaging sizes and a redesign of its 1-gallon jug. Tregaskiss also changed the lid and handle design on its 5-gallon pail of TOUGH GARD Anti-Spatter Liquid. The new labeling gives the product a more distinct look, while the packaging redesigns increase durability to protect against the harsh abuse of many job sites.

TOUGH GARD Anti-Spatter Liquid is a ready-to-use, water-soluble and biodegradable product that helps prolong the life of consumables, reducing the downtime and cost to change over nozzles, contact tips and retaining heads. When exposed to heat, TOUGH GARD Anti-Spatter Liquid creates a sacrificial barrier around the nozzle. Spatter sticks to this barrier and breaks away, leaving the consumables clean. Research has shown that TOUGH GARD Anti-Spatter Liquid provides exceptionally uniform protection and requires less product to do the job than competing solutions.

Tregaskiss developed this nontoxic product (without petroleum derivatives) to address the performance and environmental concerns of metal fabricators, and also to help reduce their operating costs. TOUGH GARD Anti-Spatter Liquid is nonflammable and nonreactive, so the liquid is safe to use and won't harm machinery or contaminate surfaces. It wipes easily with no residue. The liquid also won't clog sprayers or nozzle cleaning stations, which reduces downtime for maintenance.

Tregaskiss offers the TOUGH GARD Anti-Spatter Liquid in five different package sizes: a 14 fl. oz. bottle; 25.36 fl. oz. spray bottle; 1-gallon jug; 5-gallon pail; and 55-gallon drum.

About Tregaskiss

For more information on Tregaskiss Products, call 1-877-737-3111 or fax 1-877-737-2111 (in Canada and USA); write Tregaskiss, 2570 North Talbot Road, Windsor, Ontario, Canada, N0R 1L0; email [email protected] or visit Tregaskiss.com. Outside North America, call +1-519-737-3000 or fax +1-519-737-1530.


Tregaskiss is an industry leader in the development and manufacture of robotic MIG welding guns, peripherals and consumables, and offers its products worldwide. Its brands include TOUGH GUN(TM) Robotic MIG Guns and Peripherals, TOUGH LOCK(TM) Consumables, QUICK LOAD(TM) Liners and TOUGH GARD(TM) Anti-Spatter Products. Tregaskiss is a division of ITW Canada Inc., a wholly owned subsidiary of Illinois Tool Works Inc. (ITW), Glenview, Ill., USA. ITW is a diversified multinational manufacturer of highly engineered components, assemblies and systems.