Touchscreen HMI supports transportation systems.
Press Release Summary: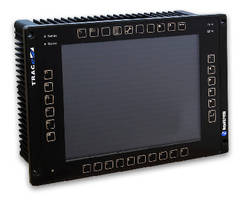 With EN50155-certified TRACe™ HMID104-CK, developers of train control systems can adapt functionality to different needs such as displays for drivers, passenger information displays, and onboard computers. Panel PC is based on COM Express Computer-on-Module integrating Intel® Atom E3845 processor. Supporting extended temperature range of -40 to +70°C, fanless system features capacitive-touch 10.4 in. TFT (SVGA 800 x 600) display with anti-vandal glass along with UIC612 keyboard.
---
Original Press Release:

Kontron TRACe HMI is a Breakthrough Panel PC for Trains, Offering Maximum Interoperability for Multiple Applications



EN50155-certified panel PC provides building block, unified design approach eliminating costs and speeding development of individual systems



Augsburg, Germany – Kontron, a leading trusted provider of Embedded Computing Technology, announced today its TRACe™ HMID104-CK, an EN50155-certified fanless operational panel PC display. Specifically designed for transportation systems, Kontron's new advanced touch-screen HMI offers a flexible building block platform enabling developers of train control systems to quickly adapt functionality to different needs such as train functionality operational displays for drivers, passenger information displays and onboard computers.  Moreover, Kontron's TRACe-HMI delivers a unified architecture approach with the full standardized TRACe family of products, enabling maximum interoperability . These benefits allow OEMs and integrators to do away with unnecessary development costs while helping to accelerate time to market, from application design to deployment schedules.  Cost reductions in the certification phase can also be achieved by leveraging the same TRACe architecture for various applications.



The TRACe-HMI joins Kontron's full line of TRACe application ready, standards-based and certified solutions designed to make transportation systems safer, more cost-effective and reliable.  All Kontron's TRACe transportation computing platforms integrate comprehensive health management capabilities.  This built-in, intelligent solution provides a modular and scalable set of uniform test routines to assess the health status and configuration of the complete system. Equipped with a dedicated microcontroller and sensors to monitor all vital functions, TRACe health management features continuously monitor and report the status of the TRACe system while running normal operations.  The result is enhanced security along with improved diagnostics and the ability to do preventative maintenance for enhanced remote fleet management. Controlling health management features can be done either locally or remotely through the Internet: providing a major advantage to support fleet management, asset management frameworks or the application itself.  This enables operators to reduce dramatically the maintenance and possession costs from preventive maintenance and the ability to optimize logistics management.



The Kontron TRACe™ HMID104-CK in detail

Based on Kontron's COM Express© Computer-on-Module (COM) integrating the Intel® Atom E3845 processor, the TRACe HMI offers excellent processing performance and low power consumption providing an ideal high performance per watt ratio. Delivering a highly rugged design, the complete system is EN50155 Class Tx certified and supports extended temperature operation (-40°C to +70°C / 10 min @ +85°C) ensuring safe deployment in trains, trams and underground vehicles. This fanless and maintenance-free driver console combines cost optimization with modularity and upgradability. It features a capacitive-touch 10.4-inch TFT (SVGA 800x600) display with anti-vandal glass along with an UIC612 keyboard. Resistive touch screen and/or no-keyboard variants are also available on demand.



TRACe-HMID104-CK offers a comprehensive feature set and all necessary interfaces including two gigabit Ethernet (GbE) ports and optional serial interfaces, USB ports, audio and GPIOs.  It also features flexible I/O (3x MiniPCIe slots), wide range power supply (from 24VDC to 110VDC) and modular design as well as optional  support for the full range of field buses such as MVB, TRDP, IPCom, Profibus, and CANbus.  In addition, the TRACe-HMI has a soldered 2GB DDR3 ECC system memory and an on-board high reliability 8 GB SLC solid state drive as well as embedded Linux or WES8 operating systems. Thanks to its modular, low power and robust design, the Kontron TRACe HMI matches long-term program lifecycle needs of 20 years or more with very high availability and outstanding MTBF.



For more information on the Kontron TRACe-HMID104-CK, please visit:

http://www.kontron.com/industries/transportation/train-control/trace-hmid104.html



About Kontron

Kontron is a global leader in embedded computing technology. With its employees in research and development, Kontron creates many of the standards that drive the world's embedded computing platforms. Kontron's product longevity, local engineering and support, and value-added services, help create a sustainable and viable embedded solution for OEMs and system integrators. Kontron works closely with its customers on their embedded application-ready platforms and custom solutions, enabling them to focus on their core competencies. The result is an accelerated time-to-market, reduced total-cost-of-ownership and an improved overall application with leading-edge, highly-reliable embedded technology.



Kontron is a listed company. Its shares are traded in the Prime Standard segment of the Frankfurt Stock Exchange and on other exchanges under the symbol "KBC". For more information, please visit:  http://www.kontron.com/.



Media Contacts



Europe, Middle East and Africa

Bettina Missy

Kontron

Tel: +49 (0) 821 4086-254



[email protected]





North America

Richard Pugnier

Kontron

Tel: +1 858.677 .0877



[email protected]





Asia Pacific

Richard Pugnier

Kontron

Tel: +1 858.677 .0877



[email protected]





All rights reserved. Kontron is a trademark or registered trademark of Kontron AG. Intel® and Intel® Core™ are trademarks or registered trademarks of Intel® Corporation in the US and other countries. PICMG® and COM Express® are trademarks or registered trademarks of the PCI Industrial Computers Manufacturers Group. SMARC TM  is a trademark of the SGET e.V. (Standardization Group for Embedded Technologies e.V.). All other brand or product names are trademarks or registered trademarks or copyrights by their respective owners and are recognized. All data is for information purposes only and not guaranteed for legal purposes. Subject to change without notice. Information in this press release has been carefully checked and is believed to be accurate; however, no responsibility is assumed for inaccuracies.