Industrial / Specific Purpose Computers
Touch Panel PCs support IIoT, ICT, and M2M applications.
Press Release Summary: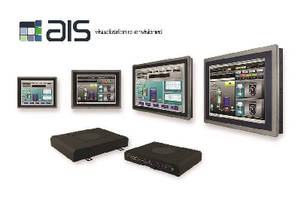 Available with single and multi-touch displays ranging from 15–21.5 in., Premium Series of HMIs are based on Intel® Core™ i7-4650U processor with 4M Cache up to 3.30 GHz. Units are equipped with 2 removable hard drives and additional 32 GB m-SATA SSD, as well as PCIe slot for expansion. Modular design allows customers to modify, change, or upgrade systems, depending on future requirements. With no moving parts and fanless cooling, HMIs maximize uptime.
---
Original Press Release:

AIS Develops New Premium Touch-Panel PC for Big Data, ICT, SCADA and IIoT Applications



AIS's New Premium HMIs are Smart Touch-Panel PCs Designed to Accommodate the Demands of Massive Sets Generated from IIoT, ICT, M2M and Industry 4.0 in Industrial Applications



IRVINE, CALIFORNIA – American Industrial Systems, Inc. (AIS), the leading designer and manufacturer of customizable, single and multi-touch panels, industrial panel PCs, comfort HMIs, thin clients and rugged touchscreens for OEMs, ODMs and end-users, recently introduced their new Premium Series of HMIs. Based on AIS's proven open architecture design, the new series of advanced Premium HMIs offer the features and capabilities required for Industrial IoT, Information and Communication Technology (ICT), M2M and Industry 4.0 applications.



The Industrial Internet of Things (IIoT) allows connectivity to an expansive range and network of new intelligent devices and sensors. New ICT, M2M and Industry 4.0 technologies are driving automation productivity in factories and buildings beyond the confines of traditional wired facilities. The Industrial Internet of Things (IIoT) is a major trend with significant implications for the global economy. It spans many industries including manufacturing, building, energy/oil and gas, and utilities. Enabling control and monitoring technologies such as AIS's new Premium Series Touchscreens will be utilized to help connect networks, machinery and facilitate the demands of new ICT, cloud-based and industrial internet technologies.



New Open Architecture Premium Touch Panel PCs from AIS Answer the Demands of Big Data, ICT & IT Convergence in the Industrial World

Big Data is disrupting and revolutionizing business all at the same time. It is expected to continually put new challenges on the industrial manufacturing industries and sectors. These changes are greatly accelerated by growth from the Internet of Things (IoT) and new Information and Communication Technologies (ICT). With smart sensors and devices installed on new and existing equipment and machinery, now even more volumes of data is created on top of the data already produced by M2M and other Industry 4.0 applications. IT convergence requires open and more flexible networked systems with powerful visualization and control solutions such as AIS's new Premium HMIs.



Requirements to capture synthesize and analyze data call for new enabling control and monitoring solutions to solve these new data processing and handling challenges. The Premium Series touch-panels from AIS are specifically engineered to deliver the performance, specifications and control and monitoring capabilities needed for new internet technologies and smart applications.



Fully Modular Design for Flexibility, Scalability, Serviceability & Lower TCO

A hallmark of their new HMI design is total flexibility and scalability. AIS's new Premium Series of industrial panel PCs provide complete system modularity. All key components of the new Premium control and monitoring system are fully modular: with detachable box PC, touchscreen, removable dual solid state drives and power supply.



The system is available with a wide selection of single and multi-touch displays ranging from 15" to 21.5", so customers can change displays to suit their specific needs. Its modularity also means future-proofing is built-in, which allows customers to easily modify, change or upgrade their systems depending on future specifications and requirements. Just as important, the modularity of the Premium series HMI lowers TCO, since servicing and maintaining the control and monitoring system is much easier and faster with fewer parts.



High Speed Processor for Big Data Crunching & Handling

The new Premium Series represents AIS's fastest HMI innovation to date. Loaded with an Intel® Core™ i7-4650U Processor; 4M Cache up to 3.30 GHz, it provides the power necessary for IIoT and M2M communications. This powerful processor assures AIS's Premium touchscreens can meet the demands of big data and ICT. Their superior processing capability makes them ideal for any SCADA, MES, ERP or OEM application.



Large On-board Storage Capacity and Expandable Options for Big Data & Video

With the enormous amount of data now generated from the factory floor to the enterprise level and beyond, albeit extremely important, the need for faster processing is only part of the equation for success in an IIoT world. The need for larger, on-board storage capacity and expandability are key requirements for success. The new Premium series HMIs from AIS boast two removable hard drive bays and an additional 32 GB m-SATA SSD, as well as a PCIe slot for additional expansion.



Less Experienced Personnel Required to Maintain & Service AIS's Open, Premium HMIs

The simplicity and modularity of the new AIS Premium Series HMIs help reduce maintenance costs, as now maintenance and field service personnel with less technical training and expertise are needed to disassemble, service and replace key components. In some cases, the system can be disassembled without any tools – the operator only needs their two hands.



With solid state digital drives, no moving parts and fan-less cooling, AIS's Premium Series HMIs are more reliable and efficient thereby increasing OEE and uptime for customers.



Customer Replaceable Units on the Premium HMI Series from AIS Include:

• CMOS battery

• Mass storage

• Random-access memory

• Power fuses

• PCI Add-on card



AIS's New HMI Families: Premium, Standard and Value Line Overview Features & Benefits

AIS has also recently introduced two other new series of HMIs including, the Standard and Value line to complement their Premium offering. Key features of the entire range of new, open HMI touch-panels from AIS include:

• Open & standard interfaces in hardware & software for HMI, SCADA & MES applications

• PC-based automation uses standard Ethernet & TCP/IP for easy HMI/SCADA & IT/OT integration

• Web-enabled HMI with HTML5-compliant web browsers for improved real-time decision making

• Easy to replace, highly modular designed field-replaceable front display and box PC

• Maintenance-free illumination system with lifetime rating of 80,000-100,000 hours on Eco mode

• Expandable HMI solutions with multiple configurations & options for fast project engineering

• International marks and schemes for safety equipment, certification and regulatory compliance

• Suited for IT-OT convergence, M2M communications, Industry 4.0 and IoT ready for future requirements



About AIS

Headquartered in Irvine, California, USA, American Industrial Systems, Inc. (AIS) offers in-house electronic and mechanical design, software development, manufacturing, production and quality control services. Offering one of the widest range of Industrial Computing solutions, AIS solutions are available in a multitude of configurations for industrial, oil & gas, military and marine applications. The company is fully committed to empowering, improving and delivering turnkey HMI, monitoring and display solutions for OEM, ODM and end-user customers. AIS is an ISO 9001:2008 certified supplier and manufacturer of rugged computers and displays, and received completion of the International Traffic in Arms Regulations (ITAR) registration from the Directorate of Defense Trade Controls (DDTC). For more information, visit: www.aispro.com, email: sales@aispro.com or contact: 1-888-485-6688.



Media Relations Contact:

American Industrial Systems, Inc.

David G. Martorana

Marketing & Public Relations

1.847.630.6487 

dgmcreative@sbcglobal.net

More from Explosives, Armaments, and Weaponry