Torque Sensors come in 3 sizes for up to 13,000 Nm torque.
Press Release Summary: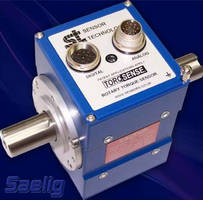 Utilizing Surface Acoustic Wave technology, TorqSense Digital RWT410/420 Series offers non-contact digital rotary torque measurement solution. RWT410 Series provides voltage or current analog outputs for torque and speed or power for interfacing with analog instrumentation, while RWT420 Series offers digital outputs for interfacing with instrumentation and PCs. Signal bandwidth is up to 10 kHz at 0.25% accuracy and 0.02% resolution. Integral digital electronics provide noise immunity.
---
Original Press Release:

Saelig's Smart Sensor - All Torque, All the Time



Pittsford, NY: Saelig Company, Inc. (Saelig) (www.saelig.com) announces the TorqSense Digital RWT410/420 Series transducers with integral electronics - available in three different body sizes for torque ranges up to 13,000Nm.

The new TorqSense RWT410/420 torque sensors, which replace the RWT310/320 series, feature significant performance gains in resolution, frequency response, reduced sensor current consumption and faster digital data throughput. Transducer overload capability has also been increased to 300%. The series offers a cost effective, non-contact digital rotary torque measurement solution, using TorqSense Surface Acoustic Wave technology, suitable for torque monitoring, testing or controlling drive mechanisms.

Benefits of the new range include: Minimal shaft length for high shaft stiffness, low inertia offering high speed capability, non-contact/brushless measurement with no electronics fixed to the shaft. Power and signal are conveniently transmitted to the sensor via a simple RF coupling. Signal bandwidth is up to 10kHz at high (0.25%) accuracy and resolution (0.02%). Excellent noise immunity is provided by the integral digital electronics and the RWT410/420 series operates both statically and dynamically (clockwise and counter-clockwise) for any specified full scale torque (series range 1Nm through to 13,000Nm.) Built-in sensors monitor and compensate for shaft temperature.

TorqSense RWT410 Series transducers offer voltage or current analog outputs for torque and speed or power for interfacing with analog instrumentation, whereas, TorqSense RWT420 Series transducers provide digital outputs (RS232, CANbus or USB) for interfacing with modern instrumentation and PCs.

TorqView, free with RWT410/420 Series transducers, is an easy to use, visual torque monitoring software package providing data recording and instrumentation displays for Windows based PCs. Features include: 3 types of display, text files compatible with Matlab and Excel, and real-time chart plotting.

Applications for RWT410 Series torque sensors include: food mixing, chemical mixing, engine and turbine power measurements, measuring peel forces, friction, and bottle cap torque, spring testing, ISO 9000 and other quality control during manufacturing, screw and assembly machine logging. The collected data can be logged for quality control and statistical reporting purposes.

TorqSense RWT410/420 series transducers - particularly appropriate for OEM applications - are made by Sensor Technology Ltd., one of Europe's premier torque transducer suppliers, and are available from their USA distributor Saelig Company. Inc. Pittsford NY starting around $2,000. For detailed specifications, free technical assistance, or additional information, please contact us at 1-888-7SAELIG, via email: info@saelig.com, or visit www.saelig.com or www.sensors.co.uk.

About Saelig Company, Inc.

Founded in 1988 in Rochester, New York, Saelig is a North American distributor with a growing reputation for finding and sourcing unique, easy-to-use control and instrumentation products and related active components, for use in a variety of industries, including: automation, automotive, aerospace & defense, computers, controls, embedded systems, medical & pharmaceutical manufacturing, motion control, R&D, wireless, etc. Products lines are continuously added from sources across the globe, and are offered at highly competitive prices, accompanied by full in-house technical support, exceptional customer service, and fast delivery. For full details of available product lines, please visit www.saelig.com.

Press Release Link:http://www.saelig.com/pr/rwt410.html

Contact Information

email: info@saelig.com

phone / fax: 585-385-1750 / 585-385-1768

web: www.saelig.com

More from Waste Management & Waste Handling Equipment