Tooling Kit automates metal component identification.
Press Release Summary: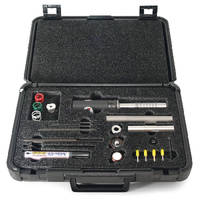 Designed for machines without bottom stroke forming feature, EasyMark(TM) 5-In-1 Tooling Kit can be used 5 different ways for marking and scribing part surfaces. Using CNC punch press, thick turret application tooling system can write numbers, dates, and other identifying information on part surface; etch sheet metal with permanent marking information; cut or scribe protective film on sheet metal surfaces; create cone-shaped indentations on part surface; and perform high-speed dot matrix marking.
---
Original Press Release:

New Mate EasyMark(TM) 5-in-1 Tooling Kit Automates Metal Component Identification During the Punching Process



Can Be Used 5 Different Ways For Marking And Scribing Part Surfaces

Anoka, Minnesota: Now there's a fast and reliable method for marking fabricated parts five different ways during the punching process. It's called the EasyMark(TM) 5 -In-1 Tooling Kit from Mate Precision Tooling.

EasyMark is a thick turret application tooling system for machines without a bottom stroke forming feature. Using the programming software in a CNC punch press, this extremely versatile tool system can be set up to automatically perform any of the following five marking operations:

1 - Write numbers, dates and other important identifying information on a part surface using a special marker. No penetration or metal removal is involved when using the tool in this mode. The special marker does not dry out for two weeks or more and the marked information is later erasable if desired.

2 - Etch the sheet metal surface with permanent marking information in this mode using one of two (120° and 150°) supplied diamond inserts.

3 - Cut or scribe protective film on sheet metal surfaces in this mode using a supplied brass insert to expose localized areas on the part without damaging underlying metal material.

4 - Create cone-shaped indentations (center point down) on the part surface to locate the part with other components for later assembly.

5 - Perform high-speed dot-matrix marking in this mode using a supplied carbide insert.

Highly efficient, fast and economical, the Mate EasyMark 5-In-1 tooling kit expands the range of CNC punch presses capabilities. It reduces part labor content by automatically and accurately identifying parts.

"Fast and reliable component identification is critically important in today's manufacturing environment," reports John Galich, Mate marketing manager. "Fabricating and assembly processes frequently take place in multiple locations. Before being moved from the turret press to the next operation, components need to be accurately marked so they can be easily identified. The Mate EasyMark provides that capability and more."

The EasyMark kit contains all components and tools for setup into all five of the above described marking modes. These include special A-Station guide and canister, marker pen, 1 brass, 1 carbide and 2 diamond inserts, 3 types of springs for the diamond and brass inserts, roller ball and blank dies.

See at www.mate.com Email: marketing@mate.com

Or call for FREE brochure and more information. In USA and Canada call 1-800-328-4492. Outside USA and Canada, call 1-763-421-0230.

Or write to MATE PRECISION TOOLING, 1295 Lund Boulevard, Anoka, Minnesota 55303. USA and Canada, Fax 1-800-541-0285. Outside USA and Canada, Fax 1-763-421-0285.

More from Machinery & Machining Tools