Tong-Tai (Topper) Introduces TA20 - Quick Setup Turning Center at IMTS-06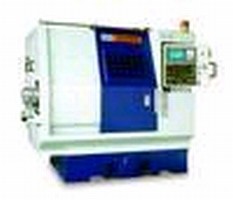 VALLEY COTTAGE, NEW YORK (May 15, 2006): In this day and age of JIT manufacturing, the norm is short run manufacturing rather than large quantity batch manufacturing. It is desirable to run 4 to 5 different setups a day, rather than a large quantity run with 1 setup. This allows meeting the requirements of JIT namely pull rather than push, minimum inventory on the shelf and manufacture to need rather than forecast. Under these conditions a short setup time on the machine is very important to meet the final criteria of JIT.

To satisfy this need Tong-tai introduces the TA20/TA25 turning centers that have all the tools needed to enable quick setup on a turning center. During Internal Setup time (when the machine cannot run) the time consuming elements are Jaw Change, Tool Change and Tool size setup. The TA20 has a Quick Jaw Change Chuck, Quick Tool Change Turret and Quick Tool Setter. These devices allow dismantling the old setup and installing the new setup within 15 minutes. The Quick Jaw Change Chuck allows removing the old jaws and replacing the new jaws without having to bore the jaws. The Quick Tool Change Turret using the TQCT tool change system (Tong-tai Quick Change Tooling) allows using the Kennametal KV holders, which have a proven track record for the last 20 years. The KV holders use the standard square shank shop tooling, which are already available in the shop. They have excellent accuracy and repeatability with 2-face contact allowing strong cutting capability. The Quick Tool Setter allows setting the tool size to reduce trial cutting.

The TA20/TA25 are 8" and 10" turning centers for Chuck work, bar work and Shaft work. They have a swing of 17.7", bar capacity of 2" and 2.5" respectively with a maximum turning length of 24.8". They have a servo driven turret with 12 tools and the TQCT tooling which can accept KV holders. The spindle motor is 20HP with a spindle nose of A2-6 and A2-8 respectively. They use the Fanuc 0iT control with all the standard features required for a turning center.

Tong-Tai Seiki is a full line machine tool builder providing Standard Machines, Customized Machines and Special Purpose Machines in the US, Far East and China. It has offices in Taiwan, Mainland China, Thailand, Indonesia, Malaysia, Japan and USA. In the US, its machines are sold and serviced through a network of full service distributors throughout the country.

Tong-Tai started as a builder of machining lines for motorcycles in 1969. The principal products at this time were automatic turning machines and multi-spindle drilling and tapping machines. This basic background of building special purpose machines has been instrumental in providing the foundation of Tong-Tai being a machine tool builder rather than just an assembler of purchased components.

Tong-tai started building CNC turning centers in 1982 and advanced to horizontal and vertical machining centers in 1985. Knowledge to design and manufacture these machines was gained over 30 years of technical cooperation with various Japanese Machine Tool Builders. Since 1990 Tong-Tai had very close technical cooperation with Hitachi Seiki, one of the leading machine tool builders in Japan. Starting 1998, Tong-Tai was manufacturing and assembling machines for Hitachi Seiki, on an OEM basis, for export to USA, Japan and the world. Tong-Tai is also one of the few Taiwanese machine tool builders with ISO-9001 and ISO-14001 certification.

More from Electrical Equipment & Systems