Toledo Tool & Die Purchases Two Feed Lines from Dallas Industries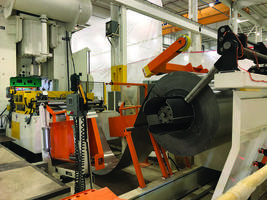 Troy, MI — Dallas Industries(www.dallasindustries.com), a leading manufacturer of coil handling, press feeding equipment and controls for the stamping industry has announced that Toledo Tool & Die, Toledo, OH has purchased two complete feed lines. Toledo Tool & Die is a manufacturer that specializes in metal stampings and offers services from tool design and in-house builds to a high-volume mass production of stamping assemblies and other machines.
The new feed lines are rated at 30,000 lb. x 72 in. wide and the other is a 20,000 lb. x 42 in. wide line. Both are compact LoopSelect SpaceSaver™ feed lines. The 72 in. wide is a DRFXDS-872 feed (8" diameter rolls) with a 9 roll, piloting pull thru straightener with 5" diameter rolls. The 42 in. wide is a DRFHDS-642 feed (6" diameter rolls) with a 9 roll, piloting pull thru straightener with 4" diameter rolls.
The compact and flexible Loop Select SpaceSaver feed lines feature a selectable loop control. The front loop mode allows processing of light gauge material at long feed lengths and higher speeds. The back loop mode allows processing of heavy gauge materials using a clock spring loop to form beneath the coil.
Both lines were built on an Allen-Bradley, Ethernet-based control architecture and feature SyncLoop and ProfileSelect™. SyncLoop technology, wherein the average line speed and loop depths are monitored and payout speeds adjusted automatically to ensure a smooth payout.
ProfileSelect™ is a unique feed control system that is exclusively avaialble through Dallas Industries. Most servo feed controls use a trapezoidal motion profile that creates quick, jerky motions that can cause slippage, material damage and added stress to machine components. ProfileSelect on the other hand uses a sinusoidal (cam Motion) profile. This results in a smooth feed motion that utilizes 100 percent of the press feed window, reducing stress on the material and the feed's mechanical components.
The system also has AutoSet, a feature that automatically adjusts various axes based on job recipe. AutoSet features auto adjusting feed passline, feeder/straightener edge guides and reel coil guides.
Dallas Industries' full line of products includes conventional and compact coil feed lines, as well as servo feeds, air feeds, heavy-duty straighteners and coil handling equipment.
For further editorial information, contact:
Ed Szykula, KST Advertising & Public Relations
szykula@ksthip.com
More from Mechanical Components and Assemblies