Dallas Industries, Inc.
103 Park St., Troy, MI, 48083, USA
Latest New Product News from
Dallas Industries, Inc.
Controls & Controllers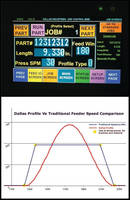 Aug 13, 2015
ProfileSelect™ incorporates press compensation servo feed control technology, which features 3 modes of operation. Control provides time-based servo feed synchronization and auto compensation for on-the-fly press speed increases, and functionality also minimizes electrical and mechanical stress on stamping equipment and materials. Utilizing 100% of press feed window, sinusoidal profile (cam... Read More
Communication Systems & Equipment, Machinery & Machining Tools

Jul 26, 2005
Space-Saver(TM) Electronic Servo Press Feed System incorporates piloting design into integral pull-thru straightener. Suited for lines that may be used to straighten or feed materials of 0.035 in. thickness or greater, Toggle Link Motion Straightener configuration ensures all upper rolls of mechanism are raised to equal height. This releases tension between upper and lower rollers of straightener... Read More
Other Company News from
Dallas Industries, Inc.