Timing Modules are programmed at factory.
Press Release Summary: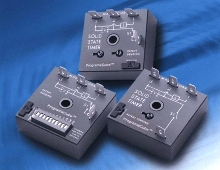 Functions, features, and options for Models KSPD, KSPS, and KSPU Series of ProgramaCube(TM) solid state output timing modules are programmed in software. When order is received, software function is added, so modules are readily available. KSPD is available in 11 fixed, knob, or external adjustable dual timer functions; KSPS is available in 10 fixed, knob, or external adjustable single functions; and KSPU is available in 12 single DIP switch adjustable timer or counter functions.
---
Original Press Release:

ProgramaCube(TM) Timing Module KSPD, KSPS, and KSPU Series


ABB is pleased to announce its new SSAC brand of ProgramaCube(TM) solid state output timing modules; the KSPD, KSPS, and KSPU Series.

To significantly reduce delivery time, ProgramaCube(TM) modules are pre-manufactured without a function assigned. After an order is received, the software function is added and the unit is shipped fast. This means even hard to find functions, features, and options are available at standard lead times.

The main advantages of the ProgramaCube(TM) format are, new functions, time ranges, and count ranges can be created without designing a new module. New software is inserted into our CE, UL Recognized, and CSA Certified solid state modules. This eliminates three of the most time consuming steps in the design process. Modules are readily available so the lead time for a custom function is a fraction of that required for the traditional approach.

The KSPD is a series of factory programmed timing modules available in any 1 of 11 fixed, knob or external adjustable dual timer functions (2 separate time delays); the KSPS is available in any 1 of 10 fixed, knob or external adjustable single functions (1 time delay). The KSPU is available in any 1 of 12 single DIP switch adjustable timer or counter functions. The KSPD and KSPS are available with time delays of 0.1 second to 1000 hours in 9 ranges. The KSPU is available with time delays of 0.1 second to 1023 hours in 6 ranges or three counting functions/ranges. The 1A steady, 10A inrush rated solid state output of these devices provides 100 million operations typical. Its microcontroller timing circuit provides excellent repeat accuracy and stability. Encapsulation protects against shock, vibration, and humidity.

All devices measure only 2 inches square and surface mount with one #10 screw to speed installation. Electrical connections are made via 0.25 inch (6.35 mm) male quick connect terminals.

ProgramaCube(TM) Modules are a cost effective approach for OEM applications that require small size, isolation, accuracy, long life, and in stock modules. Additionally, these devices are backed by a 10-year product warranty and are available through authorized distributors.

Customer Service, contact: (800) 431-2308 U.S.
Claude Fosse: (905) 507-9550 Canada

SSAC Inc.
PO Box 1000
Baldwinsville, NY 13027
PH: (315) 638-1300
Fax: (315) 638-0333
Send sales leads to Gary Weeks


More from Software