Thunderbolt-Compatible Enclosure enhances computing capacity.
Press Release Summary: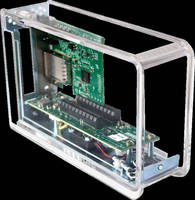 Via attachment through Thunderbolt or PCIe connection, picoCUBE (pCUBE) enhances performance of any laptop or workstation and suits Mac Pro users who need to add one card, such as Black Magic Mini Recorder card, to their system. This acrylic expansion enclosure supports one PCIe x8 3.0 half-height, half-length expansion card up to 6.5 in. long and can be supplied with PCIe x1, x4, or x8 cable adapter or Thunderbolt 2 Option Card. Standard features include 36 W external power supply.
---
Original Press Release:

One Stop Systems Introduces the picoCUBE Expansion Enclosures



Supports half-height, half-length PCIe card

New Thunderbolt2 Option Card available



ESCONDIDO, California -- One Stop Systems, Inc. (OSS), the leader in PCI Express (PCIe) expansion solutions, introduces the picoCUBE (pCUBE), the latest member of the CUBE line of expansion enclosures.  This new acrylic enclosure supports one PCIe x8 3.0 half-height, half-length expansion card up to 6.5" long. It can be supplied with either a PCIe x1, x4, or x8 cable adapter or Thunderbolt 2 Option Card and includes a 36W external power supply. It's ideal for Mac Pro users who just need to add a single card like a Black Magic Mini Recorder card to their system. This light weight, whisper-quiet appliance offers tremendous performance gains to a laptop or workstation by simply attaching to a computer through a Thunderbolt or PCIe high-speed connection. The pCUBE is especially ideal for noise-sensitive environments and can be used with both Mac and PC systems with comparable efficiency.



The CUBE expansion enclosures support one to eight PCIe cards, offering the widest variety of slots, power, and connectivity options available on the market today. These enclosures are Thunderbolt-ready to plug into the new Mac Pro, providing access to pro audio, video capture and processing and general IO cards as well as numerous storage devices.  Lightweight and easy to use, they make ideal companions to Apple laptops for many applications including on-set or near-set video applications, speeding up workflow. The CUBE enclosures are also priced lower than most competitive products.



"The picoCUBE adds yet another option for customers who want to add a single PCIe card to their system," said Steve Cooper, OSS CEO.  This smaller enclosure is ideal for applications in noise-sensitive environments where the operator needs to add a PCIe card to a laptop adding additional IO like Ethernet ports or functionality like an SDI and HDMI connectors to an editing card. It also adds flexibility to a desktop PC or workstation needing an easily removable IO card."



The picoCUBE expansion enclosure is available in a variety of connectivity options with prices from $495 for the pCUBE with PCIe x1 2.0 (OSS-PCIe-ENCL-EXP-pCUBE-1-x1) connection or $595 with the Thunderbolt 2 Option Card (OSS-TB2-ENCL-EXP-pCUBE-1).  All products are available immediately on www.maxexpansion.com.



About One Stop Systems

One Stop Systems pioneered standards-based PCIe expansion products starting in 2005. OSS continues its pioneering tradition by producing High Performance Computing Appliances targeting advanced technologies in any market with high-performance, high-density requirements. OSS provides flexible platforms for high-density, next generation storage, GPU accelerated computing and professional audio and video applications. OSS also customizes our products to make them fit our customers' precise requirements. Custom and semi-custom products have long been OSS' core capability. OSS has a proven record of producing the highest quality products through superior engineering, ISO9001-2008 quality-driven production, and responsive pre- and post-sales support. For more information, contact our sales department toll free at (877) 438-2724.



Media Contact

Katie Garrison

kgarrison@onestopsystems.com

One Stop Systems, Inc.

(760) 745-9883



Like us on Facebook Follow us on Twitter Find us on Google+ View our videos on YouTube View our profile on LinkedIn Instagram

Follow Us!