Bi-Metal and Dial Thermometers
Thermometers range from -320 to 1200°F with ±1% accuracy.
Press Release Summary: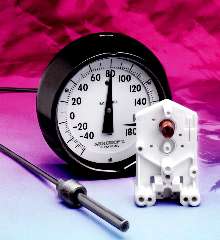 Duratemp® thermometers feature molecular sieve design, which uses chemically unreactive gas and activated carbon. Direct-drive helical Bourdon tube eliminates need for movement assembly. Bulb is 3 in. long by 3/8 in. OD, and made of AISI 316 stainless steel. Lower or back connections with surface or flush mounting in dial sizes of 4½, 6, and 8½ in. are offered. Thermometers come in remote and direct mount with relatively linear dial.
---
Original Press Release:
Ashcroft® Duratemp® Thermometers Offer Reliability and Long Life

Ashcroft® Duratemp® thermometers set the standard in temperature measurement for reliability and long life.

The unique molecular sieve design uses a combination of a chemically unreactive gas and activated carbon which produces much lower internal pressures than conventional thermometers. These lower pressures are transmitted to a silicone dampened helical Bourdon tube which is connected directly to the pointer shaft. This direct-drive helical Bourdon tube eliminates the need for a movement assembly resulting in longer life, sustained accuracy under the most adverse shock and vibration conditions and lower replacement costs.

Duratemp® thermometers feature an accuracy ±1 % of range span and come in ranges from -320°F to 1200°F. The temperature span ranges on Duratemp® thermometers are wider than on most thermometers. The bulb, made of AISI 316 stainless steel, is one size for all ranges: 3" long by 3/8" O.D. This thermometer, available in both remote and direct mount, has a relatively linear dial, an advantage over most thermometers.

Cases are available in stainless steel, phenolic or aluminum. Lower or back connections with surface or flush mounting in dial sizes of 4 1/2-inches, 6-inches and 8 1/2-inches are offered. All Ashcroft® Duratemp® thermometers have a field-adjustable pointer and will not exhibit any head or elevation error if the bulb is mounted above or below the case.

Ashcroft® Duratemp® thermometers come with a 5-year limited warranty.

Dresser Instruments

250 East Main Street

Stratford, CT 06614-5145

(203) 378-8281

1-800-328-8258

www.ashcroft.com
More from Test & Measurement