Thermocouple Module supports USB 2.0 or USB 1.1.
Press Release Summary: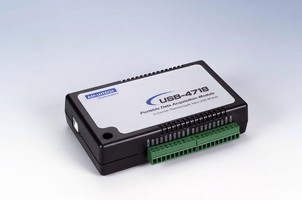 USB-4718 dedicated thermocouple module supports 7 types of thermocouples, 6 voltage input ranges, and 0-20 or 4-20 mA current input. It provides eight 16-bit analog input channels with up to 0.01% input range accuracy, for thermocouples, voltage signals, and current signals, and 16 isolated digital I/O channels with I/O ranges for safety integration, protection, and industry on/off control applications. With bus-powered design, no additional battery or power supply is required.
---
Original Press Release:

Advantech Launches Dedicated USB Thermocouple Module



The USB-4718 is a dedicated USB thermocouple module starting at $325.

(Cincinnati, Ohio - 02/23/2006) - The Industrial Automation Group of Advantech introduces the USB-4718. The USB-4718 is Advantech's first dedicated USB-based thermocouple module. The USB-4718 supports seven different types of thermocouples (J, K, T, E, R, S, B), six voltage input ranges, 0 ~ 20mA or 4 ~ 20mA current input (to support variety of sensors), and 16 isolated digital I/O channels. The USB-4718 supports either USB 2.0 or USB 1.1 buses.

The USB-4718 provides eight 16-bit analog input channels with up to 0.01% input range accuracy for thermocouples, voltage signals, and current signals. Users can configure input type and range by individual channel. In addition, the USB-4718 provides 16 isolated digital I/O channels which have wide input and output ranges for safety integration, protection, and industry on/off control applications.

With its bus-powered design, no additional battery or power supply is required...simply connect the module to any computer or notebook, install the supplied software, and the signal will connect directly to the USB-4718.

Advanced user-friendly designs such as detachable screw terminals, pin-assignments displayed clearly on the module, bus-powered, and full driver and utility support are Advantech standards. The freely bundled drivers and utilities, such as Advantech's own Scaling, Waveform, and Data Logging software make the USB-4718 a ready-to-use DAQ device without much programming effort. The USB-4718 drivers support Windows 2000 and XP. The Windows API (DLL) driver, ActiveX control (ActiveDAQ), and LabVIEW driver are included at no additional cost.

The USB-4718 is the perfect solution for all temperature measurement control applications with its rugged, versatile, and efficient portable design. Temperature measurement jobs couldn't be any easier or more cost-effective.

The USB-4718 starts at $325 and is available for purchase directly from Advantech at 1-800-205-7940 or from one of Advantech's North American distributors at eautomationpro.com/us.

Advantech Corporation, Industrial Automation Group - Founded in 1983, the Industrial Automation Group of Advantech Corporation is the only complete PC-based Industrial Automation Solution Manufacturer offering products such as Industrial PCs, Workstations, Panel PCs, Flat Panel Monitors, Heavy Environmental PCs, Customized PCs, Single Board Computers, Data Acquisition & Control Devices and Web-enabled products for a wide array of industries. Drawing on the talents of more than 1,800 people, Advantech operates an extensive sales and marketing network in 16 countries and 35 major cities to deliver fast time-to-market services to our worldwide customers. Today Advantech offers over 700 products and solutions, adding 30 new products each year. US operations for the Industrial Automation Group are based in Cincinnati, OH (877-294-8989). Advantech Corporation, Industrial Automation Group, 1320 Kemper Meadow Drive, Suite 500, Cincinnati, OH 45240. Website for Advantech customer's in North America: eautomationpro.com/us. Email: mailto:info@advantech.com

Chuck Harrell
Advantech Public Relations and Promotions Manager
Advantech Corporation, Industrial Automation Group
1320 Kemper Meadow Drive Suite 500
Cincinnati, OH 45240
513-742-8895 x333
fax 513-742-0554
website: eautomationpro.com/us

More from Optics & Photonics