Thermocouple Calibration Furnace has 300° to 1,200°C range.
Press Release Summary: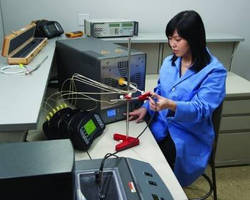 As horizontal, open-ended tube furnace, 9118A enables calibration professionals to conduct comparison calibrations of noble- and base-metal thermocouples used in various industries. Calibrations can be fully automated when used with Fluke Calibration 1586A Precision Temperature Scanner, and furnace can be operated with or without isothermal block. Temperature stability is ±0.1° at 1,200°C with radial uniformity of ±0.25° at 1,200°C and axial uniformity of ±0.2° at 1,200°C.
---
Original Press Release:

The Fluke Calibration 9118A Thermocouple Calibration Furnace Meets the Demanding Requirements of Precise High Temperature Thermocouple Calibrations



EVERETT, Wash. -- Fluke Calibration introduces the 9118A Thermocouple Calibration Furnace, a horizontal, open-ended tube furnace with a temperature range of 300 to 1200 degrees Celsius. The 9118A enables calibration professionals to conduct comparison calibrations of the noble- and base-metal thermocouples used in a variety of industries, including aerospace, automotive, energy, metals, and plastics.



Calibrations can be fully automated when the 9118A is used with the Fluke Calibration 1586A Precision Temperature Scanner, increasing lab productivity.



The 9118A can be operated with or without an isothermal block, increasing the workload that can be performed with a single unit. The furnace configuration can be quickly changed by selecting parameters stored in the controller and by either inserting or removing the alumina-ceramic isothermal block.



It features temperature stability of plus-or-minus 0.1 degrees at 1200 degrees Celsius with a radial uniformity of plus-or-minus 0.25 degrees at 1200 degrees Celsius and axial uniformity of plus-or-minus 0.2 degrees at 1200 degrees Celsius. The wide temperature range of the calibration furnace enables labs to meet standards like AMS2750 and EURAMET cg-8 that require thermocouples be calibrated over the full temperature range in which they are used.



The 9118A manages its heater power to prevent heater elements from overheating, improving the reliability of the furnace and extending its lifetime. Its non-metallic block minimizes thermocouple contamination and eliminates the need to protect the thermocouples under test with costly ceramic sleeving, reducing the cost of ownership.



To learn more about the Fluke Calibration 9118A Thermocouple Calibration Furnace, visit http://www.flukecal.com/9118A.



Contact Fluke Calibration

For more information from Fluke Calibration, visit the Fluke Calibration website or contact Fluke Corporation, P.O. Box 9090, Everett, WA USA 98206-9090, or call 1-877-355-3225.



About Fluke Calibration

Fluke Calibration is a leader in precision calibration instrumentation and software for electrical, temperature, pressure, flow, and RF measurements. Calibration products from Fluke Calibration are found in calibration facilities around the world, including National Metrology Institutes, that demand the highest levels of performance and reliability, backed by state of the art metrology and uncompromising support. They are relied on by quality engineers, calibration technicians, and metrologists to instill confidence in the measurements that are critical to their organizations for quality, safety, reliability, and cost.



Fluke and Fluke Calibration are trademarks of Fluke Corporation. The names of actual companies and products mentioned herein may be the trademarks of their respective owners.



For more information:

Leah Friberg

Public Relations Manager

(425) 446-5905

leah.friberg@fluke.com