Thermally Conductive Compounds suit heat sinks in LED market.
Press Release Summary: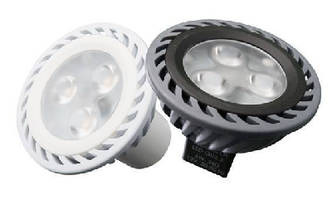 Offering UL94 V0 rating at 0.8 mm, KONDUIT PX13012 is black in color with high thermal conductivity. Electrical isolative, flame retardant compound offers optimized tensile strength and elongation at break, making it suitable for hybrid or all thermoplastic heat sinks in LED lighting industry. White in color, KONDUIT PX11311U offers UL94 V0 rating at 1 mm. Product provides thermal conductivity, optimized heat-shock performance across temperature range of -40 to 85°C, and up to 92% reflectivity.
---
Original Press Release:

SABIC's New KONDUIT(TM) Compound Grades Light the Way for Cost-efficient Hybrid Heat Sinks in the LED Market



Lighting manufacturers are in constant pursuit of innovative materials and designs that reduce costs while maintaining design and performance integrity. SABIC is catalysing these efforts with an expanded portfolio of materials for cost-efficient hybrid heat sinks, a component that is critical to the longevity of light-emitting diode (LED) lights. With the addition of two new grades of KONDUIT™ compound, SABIC is bringing the solution that can enhance thermal management for customers at a cost that helps them maintain a competitive edge.



Used in LED lighting to dissipate heat, heat sinks can have a tremendous effect on performance, but can also have an outsized impact on the cost per bulb by requiring secondary processes for housings. Lightweight hybrid aluminum/thermoplastic solutions are emerging as an attractive alternative to the conventional metal heat sinks as they exhibit high thermal conductivity but do not require expensive secondary processing. SABIC's cost-efficient KONDUIT PX13012 and PX11311U compound grades deliver improved mechanical properties while keeping manufacturing costs down.



"SABIC's new KONDUIT compound grades will help our customers design light bulbs that can compete on design, useful life, and brightness, as well as cost," said Venugopal Koka, Director of Electrical and Lighting Marketing for SABIC's Innovative Plastics business. "Unlike other appliance and electronics categories, in which consumers and end-users are willing to pay a premium for a better product, purchasing decisions in the lighting category are highly price-driven. As material manufacturers, we have an important role to play in building light bulbs that meet the demands of our customers, and our customers' customers."



About KONDUIT PX13012 and PX11311U Compounds

KONDUIT PX13012 and PX11311U compounds, SABIC's next generation of thermal conductive materials, have inherent electrical isolation properties and industry-recognized Underwriters Laboratories (UL) ratings (UL94 V0 at 1mm for PX11311U and 0.8mm for PX13012). As a result, manufacturers may not need to design an additional housing in order to meet safety standards, offering potential cost savings and greater design flexibility.



KONDUIT PX13012 compound is a black, cost-optimized solution, which has the highest thermal conductivity of all electrical isolative flame retardant KONDUIT compound grades. This new grade offers enhanced mechanical properties verses previous generations of KONDUIT compounds. Improvements include an approximate increase of 50% in tensile strength and impact and 55% elongation at break, which make it an ideal candidate either for hybrid (aluminium/KONDUIT compound) solutions or as an all thermoplastic heat sink solution in the LED Lighting industry.



KONDUIT PX11311U compound is a white grade which also has good thermal conductivity and improved UV performance, elongation at break, and heat-shock performance across a wide range of temperatures (-40°C to 85°C). Additionally, it has a high level of reflectivity - up to 92% - making it a good candidate material for reflectors in addition to heat sinks. This provides designers the opportunity to create aesthetically pleasing LED lamps with a stronger light quality preferred by consumers.



More information about SABIC's Innovative Plastics business and its range of innovative solutions for the lighting industry can be found on www.sabic-ip.com/lighting. For technical product inquiries, please contact us at www.sabic-ip.com/prtechinquiry.



About SABIC

Saudi Basic Industries Corporation (SABIC) ranks among the world's top petrochemical companies. The company is among the world's market leaders in the production of polyethylene, polypropylene and other advanced thermoplastics, glycols, methanol and fertilizers.



SABIC recorded a net profit of SR 25.3 billion (US$ 6.7 billion) in 2013. Sales revenues for 2013 totaled SR 189 billion (US$ 50.4 billion). Total assets stood at SR 339.1 billion (US$ 90.4 billion) at the end of 2013.



SABIC's businesses are grouped into Chemicals, Polymers, Performance Chemicals, Fertilizers, Metals and Innovative Plastics. SABIC has significant research resources with 19 dedicated Technology & Innovation facilities in Saudi Arabia, the USA, the Netherlands, Spain, Japan, India, China and South Korea. The company operates in more than 45 countries across the world with around 40,000 employees worldwide. SABIC manufactures on a global scale in Saudi Arabia, the Americas, Europe and Asia Pacific.



Headquartered in Riyadh, SABIC was founded in 1976 when the Saudi Arabian Government decided to use the hydrocarbon gases associated with its oil production as the principal feedstock for production of chemicals, polymers and fertilizers. The Saudi Arabian Government owns 70 percent of SABIC shares with the remaining 30 percent held by private investors in Saudi Arabia and other Gulf Cooperation Council countries.



About Innovative Plastics

SABIC's Innovative Plastics business is a leading, global supplier of engineering thermoplastics with an 80-year history of breakthrough solutions that solve its customers' most pressing challenges. Today, Innovative Plastics is a multi-billion-dollar company with operations in more than 35 countries and approximately 9,000 employees worldwide. The company continues to lead the plastics industry with customer collaboration and continued investments in new polymer technologies, global application development, process technologies, and environmentally responsible solutions that serve diverse markets such as Healthcare, Transportation, Automotive, Electrical, Lighting and Consumer Electronics. The company's extensive product portfolio includes thermoplastic resins, coatings, specialty compounds, film, and sheet. Innovative Plastics (www.sabic-ip.com) is a wholly owned subsidiary of Saudi Basic Industries Corporation (SABIC).



SABIC Media Contacts

Michael Wheeler

E: media.inquiries@sabic-ip.com

T: +1 413 448 6895