Thermal Insulation Ceramic Blankets have REACH-compliant design.
Press Release Summary: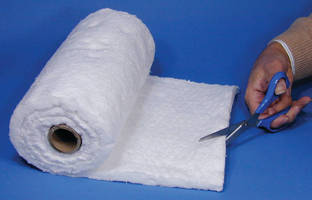 Available ¼, ½, 1, 1 ½, and 2 in. thicknesses, 370R blankets are made from alkaline earth silicate wool and designed for use in applications that require thermal insulation as well as compliance with strict safety requirements/regulations. Flexible blankets, thermally stable to 2,730°F, are resistant to chemicals as well as splashes of molten metal, oil, and water. Design maximizes resiliency, non-wetting, low heat storage, and minimal shrinkage characteristics.
---
Original Press Release:

New Cotronics' REACH Compliant, Thermal Insulation Ceramic Blankets



Cotronics' 370R REACH compliant ceramic blankets are made from alkaline earth silicate wool and were specifically designed for use in applications that require highly efficient thermal insulation and compliance with strict safety requirements and regulations. 370R blankets are thermally stable to 2730ºF, flexible, resilient and have excellent non-wetting characteristics, low heat storage and extremely low shrinkage.

Cotronics' REACH compliant, high temperature, ceramic blankets are designed to replace noncompliant, RCF blankets. Applications include: furnace and boiler linings; chemical reactors, ovens, door seals, reusable steam and gas turbine insulation; mold wraps and investment castings, expansion joint packing, high temperature filters, fire protection, sound absorption, non contaminating brazing and sintering separators, melting furnace back up insulation, aluminum ladle and trough covers and more.

REACH compliant, ceramic blankets offer excellent resistance to chemicals and splashes of molten metal, oil and water. Not recommended for use with HF, H3PO4, NaOH and KOH.

An Insulation Thickness Selector guide is available to calculate the required thickness the ceramic blanket should be. Cotronics' 370R Ceramic Blanket rolls are available in five thicknesses: 1/4", 1/2", 1", 1 1/2" and 2".

For more information contact Cotronics via email, phone, fax or visit: www.cotronics.com.

COTRONICS CORP.
131 47th Street
Brooklyn, NY 11232
Tel: 718-788-5533
Fax: 718-788-5538
Email: sales@cotronics.com
Web: www.cotronics.com

MORTON ADVERTISING INC.
875 AVENUE OF THE AMERICAS, NEW YORK, NY 10001
TEL: (212) 465-2250 FAX: (212) 465-1575

More from Adhesives & Sealants