Theft Protection System eliminates missing tools.
Press Release Summary: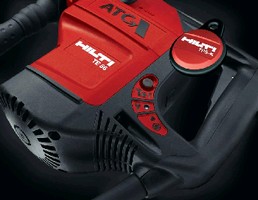 Available for many Hilti tools, electronic Hilti TPS consists of Company Card, Activation Key, and electronic module inside tool. Company-specific theft protection code is set in each tool using Company Card. Authorized users receive Activation Key, which is needed to electrically unlock tools. User connects tool to power supply, holds Activation Key to tool, and begins work. If tool is stolen, it will lock after 20 min and cannot be restarted without Activation Key.
---
Original Press Release:
New Electronic Theft Protection System Available For Hilti Tools
TULSA, Okla. - October 27, 2005 - Tool and material theft from construction sites has increased steadily in recent years, forcing construction companies and tradesmen to apply stricter and more comprehensive security measures. From locked security containers and expensive jobsite security systems to round-the-clock construction site surveillance, these measures involve considerable expense and extra work - and in many cases provide only limited security. Because theft is clearly a major issue in the construction industry, Hilti now has a theft deterrent system to help protect your valuable tool assets. With the new electronic Hilti TPS Theft Protection System, theft is pointless. The simple, easy-to-use TPS system, which is available for many Hilti tools, puts tool owners and users in control and can be customized to best suit their needs. Additionally, because the system helps put an end to missing tools, it helps reduce insurance and replacement costs and keeps the tools in your hands to help increase productivity - all which can help positively impact your bottom line. The TPS system consists of a Company Card, Activation Key and electronic module inside the tool. A company-specific theft protection code is set initially in each tool using the Company Card. Authorized users receive an Activation Key that is needed to electrically unlock the tools. For everyday tool use, connect the tool to the power supply, hold the Activation Key to the tool and go to work. If the tool is stolen, it will lock after 20 minutes and cannot be restarted without the Activation Key. For even greater tool protection, the new TPS system works with the Hilti serial number tracking system. At the time of purchase, the tool's serial number is typically linked to the authorized users' account information. This tracking allows tool owner to report stolen tools to Hilti so notification can be sent if the tool reappears in a Hilti Repair Center. Hilti now offers the TPS system, the first of its kind in the world, for many of its tools. For more information, please contact Hilti Customer Service. From the U.S., call Hilti, Inc., at 1-800-879-8000 or visit us.hilti.com; from Canada, call Hilti (Canada) Corporation at 1-800-363-4458 or visit www.ca.hilti.com. About Hilti, Inc. Hilti is a world-leading manufacturer and supplier of quality, innovative and specialized tools and fastening systems for the professional user. With more than 800 highly trained Hilti account managers and engineers throughout North America and an additional 1,300 Hilti employees nationwide, Hilti expertise covers the areas of powder actuated fastening, drilling and demolition, diamond coring and cutting, measuring, firestopping, screw fastening, adhesive and mechanical anchoring, and strut and hanger systems.
More from Agricultural & Farming Products