The SeamMaster(TM) High Profile Ultrasonic Bonder, SureWeld(TM) 20 Ultrasonic PlungeBonder(TM), and SureCut(TM) 35 Ultrasonic Cutter will be on Display at Filtration 2010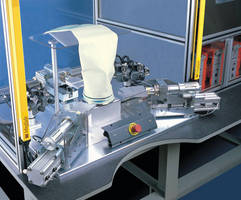 WEST CHESTER, Pennsylvania, September 29, 2010-Sonobond Ultrasonics, a leader in ultrasonic bonding technology for the filtration industry, will have three of its units on display at Filtration 2010 in Philadelphia, November 30-December 2, 2010. (The conference opens November 30; machines can be viewed December 1 & 2.)

In making the announcement, Sonobond's Vice President, Melissa Alleman said, "Sonobond's ultrasonic bonding technology is fast, reliable, and environmentally-friendly. We are pleased to be exhibiting three very versatile units at this important conference and exhibition. Our SeamMaster(TM) High Profile Ultrasonic Bonder, our SureWeld(TM) 20 Ultrasonic PlungeBonder(TM), and our SureCut(TM) 35 Ultrasonic Cutter all play an important role in various nonwoven applications, most particularly in filtration assembly. In addition to seeing these three machines, visitors to our booth will be able to view an informative video about our RingMaster(TM) Filter Bag Machine that can assemble as many as 250 bags per hour."

SeamMaster(TM) High Profile Bonder

Although similar in appearance and operation to traditional sewing machines, the Sonobond SeamMaster(TM) High Profile Bonder uses no thread, glue, or other consumables. It features a large pattern wheel and high clearance above the bench that make it ideal for applications involving bulky materials, hand-guided operations with tight tolerances, and for working around curves. The unit has production speeds that are up to four times faster than sewing machines and up to ten times faster than adhesive machines. A special fixture can be installed on the SeamMaster(TM) for sewing pleated filters. The unit is available as a stand-alone model or as a modular unit for easy integration into the production process.

SureWeld(TM) 20 Ultrasonic PlungeBonder(TM)

Another Sonobond unit that will be exhibited at Filtration 2010 is the SureWeld(TM) 20 Ultrasonic PlungeBonder(TM). This versatile and powerful machine is ideal for sealing large, multiple-layer, or difficult-to-bond fabrics. It can accommodate these different materials in just one hit. This makes the unit a perfect choice for sealing box-style filters and filter bag ends.

The SureWeld(TM) 20 consists of a rugged welding press and a heavy-duty 1,000- to 3,000-watt power supply. The high-power output of the unit enables it to achieve superior repeatable performance. A rigid rectangular support column eliminates deflection, even at the full 660-pound force levels. This equipment also has a built-in leveling feature in the base with "T" slot and toe clamps for fixture holding. Shims are no longer needed to level the nest.

SureCut(TM) 35 Ultrasonic Hand Cutter

Visitors to Filtration 2010 will also be able to see Sonobond's SureCut(TM) 35 Hand Cutter/Sealer. This unit cleanly cuts and seals the edge of synthetic films and fabrics. It does this in just one pass. The unit works noiselessly and cost-effectively. It also eliminates the disadvantages of hot wire and rotating knife cutters by putting an end to fraying, unraveling, or material build-up (beading) of nonwovens, including felted filter media.

RingMaster(TM) Filter Bag Machine

In addition to the three units it will be displaying at Filtration 2010, Sonobond will be showing a video about the company's three-headed RingMaster(TM) Filter Bag Machine in action. In discussing this unit, Vice President Alleman says, "We developed the RingMaster(TM) for manufacturers of the types of bag filters used in chemical and industrial liquid applications. It was considered so innovative that it received the IDEA Equipment Award in 2004 from Nonwovens Industry magazine and INDA, the Association of the Nonwovens Fabrics Industry."

The RingMaster(TM) uses three 20 kHz ultrasonic modules and 1,500-watt power supplies to join the filter bag to a rigid plastic circular frame. The three welding heads each bond 1/6 of the bag and then retract to allow the center fixture to rotate 60º before the heads close to complete the bonding process. This two-step procedure is accomplished in less than ten seconds and creates a dependable 360º bond. Custom tooling is available to accommodate a variety of bag sizes and ring diameters. As many as 250 bags per hour can be produced with this equipment.

Ultrasonic Bonding Offers Important Advantages

The filtration industry continues to recognize the significant advantages offered by ultrasonic bonding. For example, this process uses ultrasonic vibrations to fuse nonwoven materials, without the need for needles, thread, or glue. As a result, manufacturers and assemblers no longer need to be concerned about stitch holes or glue gaps. Sonobond's ultrasonic bonding machines are very dependable, cost-effective, and environmentally-friendly. These units have the additional advantage of being easy to operate with only minimal training.

50 Years of Leadership

Sonobond Ultrasonics has been a worldwide leader in the application of ultrasonic welding and bonding equipment for 50 years.

During this period, Sonobond has built an outstanding reputation for its pioneering work and quality-engineered products. The company manufacturers a complete line of ultrasonic welding and bonding equipment for a wide variety of customers in the filtration, apparel, medical, automotive, appliance, electrical, solar, and aerospace industries. According to Vice President Alleman, Sonobond leadership is built not only on the quality products it produces but also on the company's commitment to quality service. She says, "You can count on us to respond promptly to requests for information and to provide superior customer service before, during, and after installation. We work together with our customers to help them find the solutions that meet their specific needs. So I encourage those attending Filtration 2010 in Philadelphia to stop by our booth to discuss how Sonobond technology can handle their particular applications."

Additional Information

To learn more about Sonobond products-or for more information about the company's free, no-obligation Ultrasonic Bonding Viability Test for specific applications-visit the website at www.SonobondUltrasonics.com. You can also call toll free 1-800-323-1269 or email Vice President Melissa Alleman at MAlleman@SonobondUltrasonics.com for more information.


More from Architectural & Civil Engineering Products