The MICHELIN X TWEEL TURF eliminates downtime from punctures.
Press Release Summary: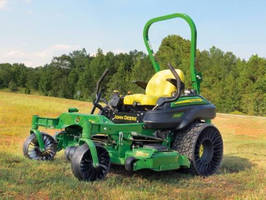 Suitable for zero-turn commercial mowers, MICHELIN X TWEEL TURF airless radial caster tire-wheel assembly replaces standard 13x6.5x6 front caster tire. Designed specifically for landscape professionals, wheels are fabricated from high-strength poly-resin spokes. Casters come with durable, poly-resin tread that absorbs impact and reduces bounce for improved operator comfort while consistently maintaining uniform cut.
---
Original Press Release:
Michelin Tweel Technologies Previews New Caster at GIE
At the 2016 Green Industry and Equipment Expo (GIE) today, Michelin Tweel Technologies previewed its newest extension of the X® TWEEL® line, the MICHELIN® X® TWEEL® TURF Caster for select zero-turn commercial mowers.

The first-of-its-kind airless radial caster tire-wheel assembly replaces the standard 13X6.5X6 front caster tire and wheel on zero-turn mowers. The MICHELIN X TWEEL TURF eliminates downtime from punctures and is maintenance free. The MICHELIN X TWEEL TURF Caster is expected to be commercially available in early 2017.

This new version of the MICHELIN X TWEEL TURF is designed for landscape professionals who deal with expensive and inconvenient downtime associated with flat tires on commercial mowers.

Michelin Tweel Technologies introduced the MICHELIN X TWEEL TURF 24X12N12 at GIE in 2014 in partnership with John Deere. "The X TWEEL TURF has been a tremendous success, offering customers unique benefits exclusively available with this innovative technology," said Jack Olney, director of sales for Michelin Tweel Technologies. "Extending the line with the new caster product is a direct response to customer demands for TWEEL® performance in front and rear positions on the zero-turn mower."

Because the X TWEEL TURF caster has no air, it cannot go flat and it eliminates the need to maintain air pressure. The TWEEL caster is constructed with high-strength poly-resin spokes that carry the load and create suspension-like characteristics for the front of the mower. This structure absorbs impact and reduces bounce for improved operator comfort while also maintaining a consistent height for a uniform cut. The caster's durable, poly-resin tread also provides long wear life.

Attendees of the GIE + Expo 2016 in Louisville this week can visit booth #2036 (B Wing of the Kentucky Expo Center) for a an exclusive "sneak peek" at the MICHELIN X TWEEL TURF caster, as well as its larger siblings in the expanding TWEEL® line, the MICHELIN® X® TWEEL® TURF 24X12N12 and the MICHELIN® X® TWEEL® SSL, now available in two sizes for skid steer machines. To learn more about MICHELIN X TWEEL Airless Radial Tires, visit www.michelintweel.com.

About Michelin North America, Inc.

Dedicated to the improvement of sustainable mobility, Michelin designs, manufactures and sells tires for every type of vehicle, including airplanes, automobiles, bicycles, earth movers, farm equipment, heavy-duty trucks and motorcycles. The company has earned a long-standing reputation for building innovative premium tires. Since 1989, Michelin has received 80 J.D. Power tire customer satisfaction awards — five times the number of all other tire manufacturers combined. In addition to tires, the company also publishes travel guides, hotel and restaurant guides, maps and road atlases.Headquartered in Greenville, S.C., Michelin North America(www.michelinman.com) employs about 22,700 and operates 19 major manufacturing plants.

SOURCE Michelin North America, Inc.

CONTACT:

Mary Ann Kotlarich,
864.458.4884,
Mary-ann.kotlarich@michelin.com;

Eric S. Bruner,
864.458.4810 (d), 469.919.3263 (m),
Eric.bruner@michelin.com

Web Site:http://www.michelinman.com
More from Chemicals & Gases