The CS Q-LEAP™: A Success Story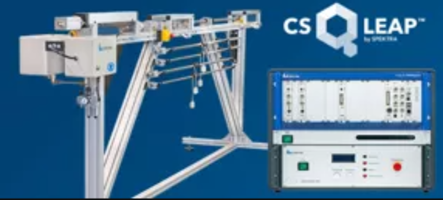 First installation of our calibration system for very high shock in the United States.
Dytran Instruments, Inc, a leading sensor manufacturer based in California, is passionate about building the best sensors on the market for its customers in the space and aviation industry.
SPEKTRA has supported them in this mission for years with calibration and high g testing and by providing products such as long stroke shakers. But what Dytran really wanted was the capacity to design and develop sensors that withstand and measure very high g, short duration shocks in-house -- and to do that successfully they needed the right tools.
SPEKTRA knew how to help. In late 2021, the engineering group at Dytran received their SPEKTRA CS Q-LEAP™ sytem with Hopkinson Bar, the first in the USA, and became one of the very few companies capable of offering in-house calibrations for high shock accelerometers up to 100,000 g.
They are now able to provide high g calibration services as well, and utilize the bar for general product development. This means the engineers can 'over stress' parts during the design and development phase, discovering their limits and making adjustments well before products are finalized
Beyond installation — Strengthening a good partnership
Soon after the hardware arrived, the SPEKTRA After-Sales-Team followed to install the CS QLEAP™ and conduct on-site training. They values the exchange of ideas and feedback made possible by in-person installation and training. In this case, it was a chance not only for Dytran to learn about its new equipment, but for SPEKTRA to get a sense of how its products integrates into a new context and where there is potential for improvement.
It uses this customer input to make corrections where needed and for optimization in updates, available as part of the SPEKTRA CS Q-LEAP™ service contract. In two days, the bar was up and running, with Dytran engineers operating it independently.
Dytran CTO and VP David Change gives the CS Q-LEAP™ and SPEKTRA's expertise and personal touch top marks:
"We are extremely happy with our purchase. We look at this new tool as a critical step in our ability to develop the most robust and competent products for consumption by our customer base. We are already using the bar in new product development, exactly as we had planned. We could not have asked for more from SPEKTRA."
If you'd like to ask SPEKTRA how their products and services can support your projects, don't hesitate — get in touch!
Contact:
Phone: +49 351 400 24 0
Email: sales@spektra-dresden.com