The Case for C-Grippers by Multi-Conveyor More Flexibility, Small Footprint, Big Return.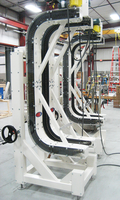 Multi-Conveyor (Winneconne, WI) - Side grip elevator conveyors, better known as "Grippers", are designed to transport packaged goods, at customer-specified elevation, from infeed to discharge, naturally reorienting the product in the process. Gripper are two parallel conveyors mounted side-by-side using neoprene bulb chains facing one another to form a gentle compression.
Grippers can elevate, lower or buffer product in between infeed and discharge conveyors with complete control. Although grippers come in both C-style and S-style mild-steel configurations, the C-Gripper is used to specifically reposition product in a full 180° rotation.
Multi-Conveyor built C-grippers for a CPG (consumer packaged goods) manufacturer that transports from cartoner exit, through C-grippers to stage at heights needed to feed batch case packing or manual hand-packing ahead. They switched from flighted incline conveyors to C-Grippers due to their smaller overall size, increased product flexibility and solved jamming or gapping issues in the process.
Nick P., Engineering Manager, explains, "We love using the C-Gripper for the small footprint that it has to get our cartons out of the way for more floor space." The gripper elevation also provides maximum operator walk through area below.
A manual hand crank easily adjusts compression for changeover product widths that can be tracked by the simplistic digital readout. Grippers typically facilitate product rotation for case packing, coding or labeling upstream.
According to Randy L., Process Engineer, "When the carton leaves our cartoner they're upside down. The C-Gripper allows us to orientate the carton in the right direction, right-side up." (Required for the case packing ahead.)
Bypass conveyor sections can be provided when product orientation or elevation is not required. A simple toggle switch allows the operator to easily choose "bypass" or "engage gripper" on command. Locking casters are commonly added for portability and easy maintenance.
Learn more about Grippers, including S-style grippers and even an ionizing air-rinse gripper, by visiting our Gripper page on the web at https://www.multi-conveyor.com/packaging-solutions/gripper-conveyors
Then, call us at 1-800-236-7960 to discuss your next project. Remember, Multi-Conveyor... your best, conveyed better.
About Multi-Conveyor: 
Multi-Conveyor is a leading manufacturer of both pre-engineered standard and uniquely designed custom conveyor solutions for CPGs, End-Users, Integrators, Engineering firms, Automation/Robotics, AI, OEM's and Contract Packagers across multiple markets. Our products are multiple and unique. No single conveyor product defines Multi-Conveyor. We specialize in conveyor systems for packaging or material handling for nearly every industry, product, shape and size. Our customers report they select Multi-Conveyor for concept/design, engineering skills, quality product and best value.
Watch this brief video to see the system in action: https://youtu.be/MfFKq8HbXbo
Contact Info for Publication:
Multi-Conveyor LLC
P.O Box 10
Winneconne, WI 54986
1-800-236-7960
info@multi-conv.com
www.multi-conveyor.com
PR Contact Non-Publication:
cmiller@multi-conv.com
More from Material Handling & Storage