Test Lead Sets are marked with CAT ratings.
Press Release Summary: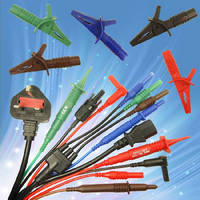 Using silicone cable with 2 layers of insulation, Test Leads are designed so that white under-layer becomes visible if outer layer becomes damaged, providing visual alert of potential safety hazard. Test Leads are used by electrical test and safety PAT testers, electrical contractors, and test and repair houses. Products are fully rated for all aspects of IEC61010, particularly with regard to voltage and current ratings, creepage distances, and cable specification and insulation ratings.
---
Original Press Release:

High Quality Test Lead Sets from Cliff Electronics Now Available from Major Electrical Wholesalers and Distributors



CLIFF Electronics has been manufacturing test leads for a number of market-leading electrical test equipment OEMs for many years and is now making a wide range of test leads available direct to end users via major electrical wholesalers nationwide.



In response to increasing numbers of enquiries for replacement test leads and enquiries for types of lead sets not available from other suppliers Cliff will be offering a very comprehensive range of standard test lead sets and are happy to provide custom solutions where required. More information is available at Cliff Test Leads



While investigating the range of third party test leads currently available in the replacement market Cliff has noted there are wide variations in quality of manufacture and reliability. Cliff are offering very high quality professional products manufactured to the same specifications and standards that they supply to their OEM Test Instrument customers



John Hall, General Manager of Cliff Electronics, comments; "As a major designer and manufacturer of test lead sets supplied with many well-known brands of test meters, as well as major suppliers to popular brands of after-market test lead sets, selling our own products direct to end users via major wholesalers is a very logical step. We are also very pleased to announce that with immediate effect our test lead range will be available from City Electrical Factors, one of the largest electrical wholesalers in the UK and will soon also be available from more of our major distributors worldwide" 



Test Leads are predominately used by electrical test and safety PAT testers, electrical contractors and test and repair houses. In recognition of this Cliff takes great care in ensuring their test lead products are fully rated for all aspects of IEC61010, particularly with regard to voltage and current ratings, creepage distances and cable specification and insulation ratings. All Cliff products are marked with CAT ratings where required.



All Cliff test leads use high quality silicone cable with 2 layers of insulation designed so that the white under-layer becomes visible if the outer becomes damaged. This provides a visual alert to the user of a potential safety hazard.



As well as the price advantage of buying direct from the manufacturer, Cliff offers customers the opportunity to increase their sales by offering a full test lead range which meets the needs of many brands of test equipment for contractors, PV installers and PAT users.



As the original manufacturer Cliff can also offer Customers customized branding and labeling if required, and undertake the manufacture any other type of test lead sets to meet local or unique requirements.



Wholesalers, distributors and customers are all assured that Cliff test lead sets are manufactured using the same double insulated silicone cable, components, tolerances and standards which are supplied to OEM customers.



All Cliff test lead sets and components are manufactured in our own ISO9001:2008 certified factories (including the UK), exceed all relevant safety specifications such as EN601010, and are RoHS compliant.



All Cliff test lead sets are packaged in reusable plastic pouches designed for efficient trade counter display



For full information, visit Cliff Test Leads or buy direct from your local City Electrical Factors outlet.



Cliff Electronics are market leaders in the design, development and manufacture of connectors and leads for a wide range of markets and supply major international OEMs. As a UK manufacturer Cliff are able to respond quickly to customer's needs for both standard products and custom designs. Cliff manufactures audio, optical and power connectors and accessories, general industrial connectors, foot pedals, lighting connectors, terminal posts and connection blocks, motors, fans and assembly aids. Cliff can also provide a wide range of leads including test and instrumentation, audio, instrument and power.



For more information on Cliff Electronics space -saving range of USB Data Sockets call +44 (0)1737 771375, email sales@CliffUK.co.uk or visit Cliff Electronics



About Cliff Electronics

CLIFF Electronic Components Limited was founded in 1977 to supply the music industry with connectors. Cliff has subsequently greatly expanded their products and services to become a high quality supplier to most professional and industrial markets. As both a manufacturer and a distributor, the expansion of their product range has established Cliff as a prime source for components. From audio into test leads and accessories, general industrial connectors, foot pedals, hand tools, production aids, lighting connectors, motors and fans. Cliff also manufactures and sources various types of leads including audio, instrument and power leads. Cliff also has extensive expertise  in moulding and metalwork and can provide a design, engineering and manufacturing service for the production of customised  components and assemblies. Our plastics expertise includes injection-moulding, blow-moulding, extrusion, sonic-welding and printing. Metalwork includes stamping, machining, aluminium  extrusion, finishing and printing. We also have the facility to enable assembly, inspection and testing. Cliff's UK and Far Eastern production plants are certified to ISO 9001 2000 and employ design, engineering, technical, marketing and sales personnel. Quality has always been of prime importance and the majority of CLIFF products are covered by approvals from organisations  such as UL and VDE.



For further information contact;

Cliff Electronics Ltd.

Holmethorpe Industrial Estate, Redhill, Surrey, RH1 2PF, England

+44 (0)1737 771375     

sales@cliffukco.uk

www.cliffuk.co.uk

More from Material Handling & Storage