Terminal Blocks offer variety of accessories.
Press Release Summary: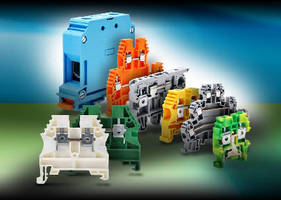 Rated up to 175 A, Konnect-It™ single-level terminal blocks accept wiring sizes from 26 AWG to 2/0 AWG and have 100 kA SCCR rating, while double-level models come in 20 and 30 A versions. Triple-level terminal blocks handle up to 24 A and accept wiring from 24 AWG to 12 AWG. Available with screw-down or snap-on clamping ground connections, grounding terminal blocks feature corrosion-free connection points. Miniature terminal blocks, offered in 20 and 30 A capacities, mount on 15 mm DIN rails.
---
Original Press Release:

AutomationDirect Introduces New Line of Low-cost Terminal Blocks



AutomationDirect's product offering now includes the Konnect-It™ line of terminal blocks and accessories.



Konnect-It single-level terminal blocks handle cur­rents up to 175A, accept a wide range of wiring sizes from 26 AWG to 2/0 AWG and have a 100kA SCCR rating. Prices start at $30 for a 100-pack and are available in a variety of colors.



Double-level terminal blocks come in 20A and 30A versions and a variety of colors. Optional features include LED indicators, diode and di­rect cross level connections, as well as terminal blocks with an added grounding leg. Double-level terminal blocks start at $83 for a package of 100.



Konnect-It triple-level terminal blocks handle up to 24A and accept a wide range of wiring sizes from 24 AWG to 12 AWG. Optional fea­tures include NPN and PNP sensor blocks with LED indication, as well as terminal blocks with an added grounding leg. Sold in packs of 20, prices start at $27.



Grounding terminal blocks with screw-down or snap-on clamp­ing ground connections offer low contact resistance and corrosion-free connection points. Starting at $69 for a 50-pack, the yellow-green color of the housing provides for easy identification.



Konnect-It miniature terminal blocks are available in 20A and 30A capacities. Starting at $36 for packs of 100, miniature terminal blocks are mountable on 15mm DIN rails; miniature grounding blocks are also available in packs of 50 or 10 starting at $19.



Fuse holder and disconnect terminal blocks provide an easy solu­tion to enable circuits to be opened or to per­form tests while the system is powered. Fuse holder terminal blocks are designed for easy installation and removal of 5mm x 20mm glass fuses up to 6.3A. Fuse holder terminal blocks start at $83 for a 50-pack; disconnects start at $61 for a 50-pack.



Available Konnect-It accessories include end brackets and covers, separators, jumpers, marking tags, as well as top covers and label holders.



You can see the full line of Konnect-It terminal blocks and accessories at: www.automationdirect.com/Konnect-It.



AutomationDirect sells over 13,000 feature-packed products through its Online Automation Superstore and 2,750-plus-page catalog. The company offers its customers high-quality automation products at prices typically below the industry average, same-day shipping on in-stock items, the best documentation in the industry, outstanding sales and technical support, and a 30-day money-back guarantee on nearly every product. For a free catalog, access their Web site at www.automationdirect.com or call 800-633-0405.



#1 Value in Automation: low prices, fast shipping and superior service

www.automationdirect.com



More from Controls & Controllers