Terminal Blocks have modular panel feed-through design.
Press Release Summary: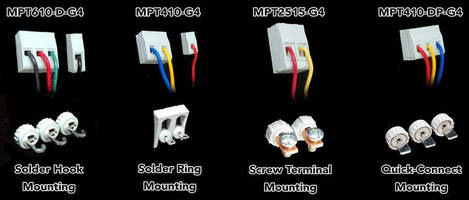 Used in various power distribution and terminal applications, MPT series has power handling ranges from 24 A/450 V to 150 A/1,000 V and can accept 14–1 AWG stranded as well as 12–2 AWG solid wire ranges among 7 different sizes. Modularity allows any number of positions to be assembled on line or in field; each position interlocks together for seamless side-by-side or stackable construction. Panel mount design features through-hole design, allowing terminal feed through panel.
---
Original Press Release:

New!! Modular Panel Feed-through Terminal Blocks for Power Applications



BlockMaster Electronics, Elk Grove Village, IL has introduced a series of panel feed thru terminal blocks that are versatile enough to be used in a variety power distribution and terminal applications. With products such as hi-power switching, motor control, medical imaging and power supplies, the MPT series can eliminate many problems.



The new MPT series power handling ranges from 24A/450V to 150 A/1000V, and can accept wire ranges from 14 to 1 AWG stranded, and  12 to 2 AWG solid  among 7 different  sizes.



Its modular design allows any number of positions to be easily assembled on the line or in the field as each position interlocks together providing seamless modular construction side by side or stackable. This configuration for panel mount design features a through-hole design allowing a terminal feed through the panel. Mounting of the block can be with either a snap-on wedge or knurled nut to secure the block.



The NEMA color-coded   blocks make them safer and easier for field installation.  Internally the wire connections can be soldered, quick-connect or screw fastened. And because of its mounting on the external side of the panel it can help to isolate the internal EMI/RFI that is sometimes generated. External connections are made with a Screw Cage clamp. Any application product that needs to connect power thru a panel and needs isolation will find this versatile terminal block the solution.



The new BlockMaster MPT Series is available from stock in sample quantities. Costs vary based on unit current ratings. For detailed specification sheets, sample requests and pricing and delivery quotations for larger requirements, contact any BlockMaster Authorized Distributor or Representative, or contact BlockMaster direct at:



BlockMaster Electronics, Inc.,

1400 Howard Street, Elk Grove Village, IL 60007.

Tel. (800) 595-8881.Fax :(847) 956-1690.

E-mail: Blockmaster@blockmaster.com Web: www.blockmaster.com.



BlockMaster is committed to a program of solutions for terminal block and barrier strip applications for products delivered for worldwide usages. Manufactured domestically and internationally, BlockMaster products meet or exceed agency quality approval standards from around the world, including UL, CUL, VDE and CE. Our products are manufactured in state of the art facilities in China, Korea, Taiwan and the USA; many of whom hold ISO-9000 Certifications. BlockMaster products are sold globally through an extensive network of independently owned Manufacturer Representatives and stocking distributors.



Company Contact:

Rich Sianta, (847) 956-1680



Press Contact:

Len Cravath, (847) 291-8366

More from Electrical Equipment & Systems