Universal Process / Temperature Controllers
Temperature Controllers include timer feature.
Press Release Summary: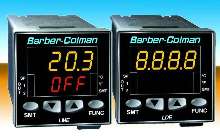 Models LDE and LME of Series 7 are 1/16 DIN controllers with single line display and dual line display, respectively. In addition to closed-loop PID control, they have 4 different timer functions that are programmable from front of instrument. INSTANT ACCURACY(TM) feature ensures consistent performance under variety of conditions. Units are suited for small ovens, thermostatic baths, and incubators.
---
Original Press Release:

Barber Colman Introduces Two New Economical 1/16 DIN Controllers with Timers


LEESBURG, VA, USR - Barber Colman, a leading manufacturer and supplier of industrial instrumentation for the process control and data acquisition industries, and a unit of Eurotherm Invensys plc, has added two new 1/16 DIN temperature controllers, the LDE and LME to its Series 7 product line. The controllers are available with a single line display unit (LDE) or a dual line display unit (LME). The LDE and LME controllers supply excellent temperature control with minimum set-up effort. The Smart auto-tuning and Eurotherm patented INSTANT ACCURACY(TM)
feature ensure consistent performance under a variety of conditions.

These controllers were designed for straightforward applications requiring an easy to use, economical temperature controller. In addition to closed loop PID control, the LDE and LME controllers have four different timer features that are programmable from the front of the instrument. These timers can be utilized in small ovens, thermostatic baths, incubators, and other industrial equipment used to turn external equipment on or off, Select a stand-by setpoint temperature, or act as a dwell timer.

o Timer 1- Delayed Start -may be used to select stand by temperature when system is not in use or predefine a start-up for unattended heating.
o Applications- Glue and laminating machines, process heating machines.
o Timer 2/3- Dwell Timer- used to apply heating or cooling for a predefined period.
o Applications- cooking and curing ovens and autoclaves, thermostatic baths, incubators. Timer 3 has an alarm at end of dwell.
o Timer 4- same as Timer 2&3, except for the alarm is active while timer is operating.
o Applications-drying and curing ovens.

For more information about this new controller contact Eurotherm in Leesburg, VA at 703-443-0000 or consult www.eurotherm.com. /products then select Series 7.

About Eurotherm
Eurotherm, part of the Production Management division of Invensys plc, is one of the world's leading automation and controls companies and a major supplier to the world's processing and equipment manufacturing industries. An ISO 9000 company, Eurotherm's products include temperature and process controllers and indicators, data recorders and data acquisition systems, signal conditioning and complete process automation solutions.

About Invensys plc
Invensys is a global leader in production technology. The group helps customers improve productivity, performance and profitability using innovative services and technologies and a
deep understanding of their industries and applications.

Invensys Production Management works closely with customers to increase performance of production assets, maximize return on investment in production and data management technologies and remove cost and cash from the supply chain. The division inclucles RPU, Ruantis, Eurotherm, Foxboro, IMServ, SimSci-Esscor, Triconex and Wonderware. These businesses address
process and batch industries - including oil and gas, chemicals, power and utilities, food and beverage, and personal health care - and the discrete and hybrid manufacturing sectors.

Invensys Rail Systems is a global leader in the design, manufacture, supply, installation, commissioning and maintenance of safety related rail signaling and control systems as well as a
complete range of rail signaling and communications products. The business includes Westinghouse Rail Systems Limited (WRSL), Dimetronic Signals, Safetran Systems, Burco Services, Westinghouse Signals Australia and Foxboro Transportation. WRSL was recently awarded two contracts valued at more than $1.3 billion for the renewal of signaling on the London Underground.

Invensys also currently serues other market sectors through its Development Division. The businesses in this division are: Appliance Controls, RPU Baker, Baan, Climate Controls, Hansen
Transmissions, Lambda, Metering Systems, Powerware and Teccor. Invensys is actively seeking to develop these businesses through equity partners or new owners.

Invensys operates in more than 60 countries, with its headquarters in London. For more information, visit www.invensys.com.

More from Materials