Universal Process / Temperature Controllers
Temperature Controller utilizes PID control loop.
Press Release Summary: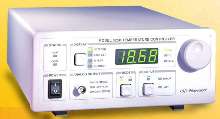 Series 300B laser diode temperature controllers utilize PID (proportional, integral, derivative) control loop, which provides ±0.005°C control of laser temperature over -50 to +150°C temperature range. Operating temperature is selected through front panel controls or via USB interface for remote reading and control. Model 325B delivers max current of 2.5 A, while 350B provides up to 5.0 A. Each offers closed-loop control and 3 modes of operation.
---
Original Press Release:

New Diode Laser Temperature Controllers Offer Exceptional Performance


Irvine, California - August 20, 2004 - The new 300B Series laser diode temperature controllers from Newport Corporation offer an unmatched combination of features, performance, and value. In particular, these are the first low-cost temperature controllers to utilize Newport's innovative PID (proportional, integral, derivative) control loop. This provides extremely tight control (±0.005°C) of laser temperature over a broad ambient temperature range. Operating temperature for these new instruments is selected through intuitive front panel controls. They can also be configured using the standard USB interface to permit external control of temperature set point, PID loop parameters and to allow system status and to be read remotely.

The 300B series diode laser temperature controllers offer lower noise and greater temperature stability than any other controller in their price range. This enables them to cost-effectively support demanding applications in scientific research and spectroscopy, as well as fiber optic communications research, development and testing.

Two different 300B series temperature controllers are available. The Model 325B delivers a maximum current of 2.5 A (17.5 Watts), while the Model 350B provides up to 5.0 A (55 Watts). Each offers precise, closed-loop control of a thermo-electric cooler (TEC), and is compatible with thermistors and a number of IC type temperature sensors. Both models enable temperature to be set over the -50°C to +150°C range, with a resolution of 0.1°C and an accuracy of ± 0.1°C. Each offers three different modes of operation: constant thermistor resistance, constant temperature (for IC type sensors) or constant TEC current.

More information on Newport's comprehensive line of diode laser instrumentation is available on the company's web site at newport.com/controllerspr.

About Newport Corporation

Newport Corporation is a leading global supplier of advanced-technology products and systems to the semiconductor, communications, electronics, research and life and health sciences markets. The company provides components and integrated subsystems to manufacturers of semiconductor processing equipment, advanced automated assembly and test systems to manufacturers of communications and electronics devices, and a broad array of high-precision components and instruments to commercial, academic and government customers worldwide. Newport's innovative solutions leverage its expertise in lasers, precision robotics and automation, sub-micron positioning systems, vibration isolation and optical subsystems to enhance the capabilities and productivity of its customers' manufacturing, engineering and research applications. Newport is part of the Standard & Poor's Midcap 400 Index and the Russell 2000 Index.

Company Contact:

Worldwide Headquarters
David Rossi
Director of Marketing
Tel: 949.863.3144
Fax: 949.253.1800
E-mail: drossi@newport.com

Hector Lara
Senior Product Manager
Tel: 949.437.9874
Fax: 949.253.1983
E-mail: hlara@newport.com

Europe
Geneviève de Roland
Marketing Communications Department
Tel: 011.33.1.60.91.68.68
Fax: 011.33.1.60.91.68.69
E-mail: gderoland@newport-fr.com

More from Cleaning Products & Equipment