Universal Process / Temperature Controllers
Temperature Controller integrates PLC ladder logic control.
Press Release Summary: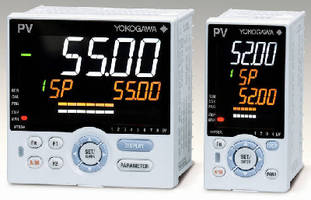 In addition to PID control, UTAdvanced(TM) Hybrid Controller incorporates embedded ladder sequence control that supports 84 ladder commands, 24 DIO points, 4 analog inputs, and 3 analog outputs. It also accommodates up to 400 ladder steps that can be programmed and run together with PID control. Offering 3 configuration levels, controller is designed with IP56 front panel, LCD, and full text scrolling configuration prompts. Communication support includes Ethernet, Profibus-DP, and RS485.
---
Original Press Release:

Yokogawa Introduces a New Hybrid Temperature Controller with Embedded PLC Ladder Logic Control



Newnan, GA - Yokogawa Corporation of America is proud to announce a new addition to their temperature controller product line, the UTAdvanced(TM) Hybrid Controller.

The UTAdvanced Hybrid Controller takes the superior PID control that Yokogawa is known for and combines it with a new, standard, no cost, embedded ladder sequence control. The new feature supports 84 ladder commands, 24 DIO points, four analog inputs, three analog outputs and allows up to 400 ladder steps that can be programmed and run together with the PID control. The PLC capability allows engineers who are using a temperature controller along with a mini/micro PLC in an application to obtain the same control functionality in one package at the cost of just the temperature controller.

The UTAdvanced has also been given a new design that includes a high-intensity LCD display and a simple user interface. Additional features include full text scrolling configuration prompts, three configuration levels, user-defined function keys, user settable default values for OEMs, and multiple language support for English, Spanish, German and French. This controller provides a NEMA 4 / IP56 front panel as well as a USB-powered configuration tool with software, fuzzy logic, universal inputs / outputs and a three-year warranty.

The communication platforms will initially include Ethernet, Profibus- DP and RS485. These platforms support Modbus/TCP, Modbus RTU, peer-to-peer, master/slave, and a proprietary Yokogawa protocol. When using the peer-to-peer protocol, the entire controller network can be accessed and operational decisions can be made by the ladder program based on process conditions anywhere in the controller network.

The UTAdvanced Hybrid Controller will replace the existing Yokogawa Green Series product line. The controller offers many features and improvements in functionality including improved measurement, display, operation, control and networking functions that enhance user efficiency and reduces the total costs of a system. The UTAdvanced will provide exceptional control for applications in various markets including semiconductor, automotive, heat treating, packaging, food, chemical, water/wastewater, air-conditioning, etc.For more information about the UTAdvanced, log on to www.utadvanced.com.

About Yokogawa Corporation of America
Yokogawa Corporation of America is the North American unit of $4 billion Yokogawa Electric Corporation, a global leader in the manufacture and supply of instrumentation, process control, and automation solutions. Headquartered in Newnan, Georgia, Yokogawa Corporation of America serves a diverse customer base with market-leading products including analyzers, flowmeters, transmitters, controllers, recorders, data acquisition products, meters, instruments, distributed control systems, and more. For more information about Yokogawa Corporation of America, visit www.yokogawa.com/us/, call 770-254-0400, or toll-free at 800-258-2552, or e-mail info@us.yokogawa.com.

More from Cleaning Products & Equipment