Temperature Calibration Software ensures consistent results.
Press Release Summary: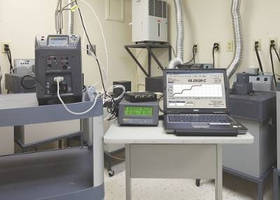 MET/TEMP II v5.0 automates batch calibrations of platinum resistance thermometers, liquid-in-glass and bimetallic thermometers, thermistors, and thermocouple sensors to standardize testing for consistent results. Solution also calculates characterization of coefficients and generates calibration reports. Along with Windows® 7/8 compatibility, features include support for such temperature calibration sources as 9190A Ultra-Cool Field Metrology Well and 9118A Thermocouple Calibration Furnace.
---
Original Press Release:

MET/TEMP II Temperature Calibration Software Automates Calibration of a Wide Range of Temperature Sensors for Consistent, Reliable Results



New version 5.0 adds compatibility with Windows 7 and 8 plus support for the latest temperature calibration sources



EVERETT, Wash. – Fluke Calibration introduces an upgrade of its MET/TEMP II Temperature Calibration Software, a comprehensive calibration solution for testing batches of sensors, calculating characterization of coefficients, and generating calibration reports. The new version 5.0 adds compatibility with the Microsoft Windows 7 and 8 operating systems and support for Fluke Calibration's most recent temperature calibration sources: the 9190A Ultra-Cool Field Metrology Well and 9118A Thermocouple Calibration Furnace.



MET/TEMP II automates batch calibrations of platinum resistance thermometers (PRTs), liquid-in-glass (LIGs) and bimetallic thermometers, thermistors, and a wide range of thermocouple sensors to standardize testing for consistent results no matter who performs the calibration. Virtually any sensor with a resistance or voltage output can be tested, up to 100 sensors at a time.



Manual calibration of temperature sensors can be expensive, time consuming, and error prone. With MET/TEMP II, calibration technicians simply place test sensors in a heat source, connect them to a temperature readout, enter the setup information, and start the test. Hours of testing are performed while the technician is free to do other work. After the test is complete, the technician prints and signs the report and ships the sensors and report to the customer, helping improve productivity and save hours of time.



The intuitive interface guides the user through configuring and running calibration tests and reporting, making it easy to learn and use.



To learn more about MET/TEMP II Temperature Calibration Software version 5.0, visit http://www.flukecal.com/METTEMPII.



Contact Fluke Calibration

For more information from Fluke Calibration, visit the Fluke Calibration website or contact Fluke Corporation, P.O. Box 9090, Everett, WA USA 98206-9090, or call 1-877-355-3225.



About Fluke Calibration

Fluke Calibration is a leader in precision calibration instrumentation and software for electrical, temperature, pressure, flow, and RF measurements. Calibration products from Fluke Calibration are found in calibration facilities around the world, including National Metrology Institutes, that demand the highest levels of performance and reliability, backed by state of the art metrology and uncompromising support. They are relied on by quality engineers, calibration technicians, and metrologists to instill confidence in the measurements that are critical to their organizations for quality, safety, reliability, and cost.



Fluke and Fluke Calibration are trademarks of Fluke Corporation. The names of actual companies and products mentioned herein may be the trademarks of their respective owners.



For more information:

Dan Wright

Communications Manager

(425) 446-5638

dan.wright@fluke.com

More from Materials