Telecom Infrastructure Products use PowerPC® processors.
Press Release Summary: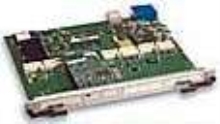 KatanaQp ATCA blade combines MPC7448 processor pair with 4 PTMC expansion sites, redundant IPMI-based system management interfaces, and PICMG 3.1-compliant ATCA interface. Processors, running at speeds to 1.7 GHz each, can be used for distributed or symmetric multiprocessing. Single-processor PmPPC7448 ProcessorPMC mezzanine card combines offers up to 2 GB RAM, 64 MB flash, and 3 Ethernet ports. It lets telecom OEMs add processing power to systems with PMC expansion sites.
---
Original Press Release:

Artesyn Embraces Freescale's Advanced MPC7448 PowerPC® Processor with Enhanced AdvancedTCA and ProcessorPMC Telecom Products


Freescale Technology Forum. Orlando, FL June 22. Artesyn Communication Products, a division of Artesyn Technologies (NASDAQ: ATSN), and a leading supplier of WAN infrastructure products, today announced the availability of two enhanced telecom infrastructure products based on Freescale's advanced MPC7448 processor based on a PowerPC® core. The first, known as the KatanaQp, is an AdvancedTCA blade that combines a pair of MPC7448 processors with four PTMC expansion sites, redundant IPMI-based system management interfaces, and a high-speed PICMG 3.1-compliant ATCA interface. The second product, known as the PmPPC7448, is a ProcessorPMC mezzanine card that combines a single MPC7448 processor with up to two Gbytes of RAM, 64 Mbytes of flash, and three Ethernet ports, while consuming just 18W.

"The MPC7448 PowerPC processor enables us to offer our telecom OEM customers a substantial increase in performance while still holding the line on power consumption," said Todd Wynia, vice president of marketing at Artesyn. "The MPC7448's high-speed number crunching and data movement capabilities make it ideal as a control or packet processor. Our KatanaQp ATCA blade and PmPPC7448 ProcessorPMC module take full advantage of these capabilities, providing an excellent foundation for a broad range of telecom infrastructure applications, from softswitches and signaling control points to base station controllers and media gateways."

"Telecommunications and networking equipment manufacturers continually look for ways to boost processing performance while keeping power dissipation in check," said Bill Dunnigan, vice president and general manager of Freescale's Computing Platforms Division. "Artesyn's new ProcessorPMC mezzanine card addresses this customer requirement by incorporating Freescale's highest performance PowerPC processor, the MPC7448, which delivers gigahertz-class performance at less than 10W."

The KatanaQp features a pair of MPC7448 processors, which can be used for either distributed or symmetric multiprocessing (SMP). Running at speeds of up to 1.7 GHz, each processor is equipped with an AltiVec vector processing unit, 32 kbytes each of L1 data and instruction cache, and one Mbyte of on-die L2 cache. A Marvell GT64460 Discovery III system controller gives the processors high-speed access to up to two Gbytes of DDR SDRAM memory and 64 Mbytes of flash memory.

The KatanaQp's four PTMC mezzanine expansion sites provide industry-standard 32-bit PCI-X control and CTbus (Computer Telephony Bus) data interfaces to external modules. The CTbus and PCI-X interfaces are also used on card to link the four sites, enabling them to exchange control information and TDM data directly. This close coupling between sites makes Katana ideal for building integrated systems that combine network access (LAN or WAN) with packet, protocol, and media processing functionality (i.e., DSP farm) on the same blade.

The KatanaQp's high-speed PICMG 3.1-compliant AdvancedTCA fabric interface utilizes a 24-port Ethernet switch and 10 Gigabit Ethernet channels to provide high-speed control and data plane connections. The KatanaQp also features a redundant PICMG 3.0 Intelligent Platform Management Interface (IPMI), which makes it easy for shelf management controllers to monitor, control and exchange management with the KatanaQp.

The PmPPC7448 gives telecom OEMs an easy way to add processing power to telecom systems equipped with PMC expansion sites. Featuring an MPC7448 processor running at speeds of up to 1.7 GHz, the PmPPC748 uses a Marvell Discovery III system controller to give the processor high-speed access to up to two Gbytes of external memory and 64 Mbytes of flash memory.

The PmPPC7448 features two Gigabit 10/100/1000BaseT Ethernet ports, which are routed to the PMC connector, and one 10/100BaseTX Ethernet port, which is routed to the module's front bezel. The module also provides an I2C bus system management controller, two RS-232 serial ports, eight GPIO lines, four 32-bit counter/timers, a 32-bit watchdog timer, and a four-channel DMA controller, which boosts overall performance by facilitating high-speed data movement between module resources without CPU intervention.

The KatanaQp and PmPPC7448 comply with all major safety, EMC, and environmental standards, including IEC60950/EN60950, UL60950, CSA C22.2, Global IEC - CB Scheme Report IEC 60950), NEBS Telecordia GR-63, and GR1089 Level 3, FCC Part 15 (U.S. and Canada), and ETSI EN300386-V1.3.1.

Software support for the KatanaQp and PmPPC7448 includes Wind River Systems' VxWorks 5.5 and Carrier Grade Linux.

The KatanaQp, equipped with a single MPC7448 processor and a four-channel Gigabit Ethernet fabric interface, sells in OEM quantity for $2,400. The PmPPC7448 costs $1,200 in OEM quantity.

About Artesyn Technologies, Inc.

Artesyn Technologies, Inc., headquartered in Boca Raton, FL., is a world leader in the design, manufacture and sale of power conversion and single-board computing solutions for infrastructure applications in telecommunications and data-communications systems. Our products are used in middle to high-end servers, data storage devices, routers, hubs, high-speed modems, RF amplification systems, base station controllers and transceivers. The Company has a global sales reach with design and manufacturing facilities in Asia, Europe and North America. Artesyn is a public company whose common stock is traded on the Nasdaq stock market under the symbol ATSN. For more information, please visit the Company's web site at artesyn.com.

PR CONTACTS

Kim Anderberg
608-831-5500
kima@artesyncp.com

Mark Shapiro
858-573-0736
mshapiro@davismarrin.com

More from Communication Systems & Equipment