Telecentric Lenses maximize 5 megapixel sensors.
Press Release Summary: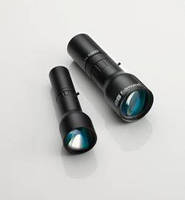 Available in 1.7, 0.9, 0.5, and 0.28x magnifications, TECHSPEC lenses are designed with F/# as fast as F/6 to achieve light collection required to work with high resolution scanners for gauging and inspection solutions. They provide up to 2/3 in. sensor coverage and offer high contrast at 72 lp/mm across full sensor field. Optional mounting clamp is available for each lens size to secure lens to benchtop setups. Variety of camera mounts are also available.
---
Original Press Release:

Edmund Optics® TECHSPEC® High Resolution 5 Megapixel Telecentric Lenses Have Lowest F/#'s in the Industry



May 21, 2009, Barrington, NJ. - Edmund Optics (EO), the premier provider of optical and imaging components, introduces their TECHSPEC High Resolution 5 Megapixel Telecentric Lenses.

Designed to maximize 5 Megapixel sensors

The TECHSPEC High Resolution 5 Megapixel Telecentric Lenses were specifically designed with the small pixels that are ideal for use with 5 Megapixel sensors. These highly telecentric lenses produce unrivaled levels of contrast, yielding maximum image quality with the highest degree of measurement accuracy. The lenses provide up to 2/3 inch sensor coverage and integrate superior light collecting F/6 designs. They offer high contrast at 72 lp/mm across the full sensor field.

Image side telecentric design eliminates illumination roll off

EO's TECHSPEC High Resolution 5 Megapixel Telecentric Lenses are designed with an F/# as fast as F/6 - the lowest F#'s in the industry - to achieve the superior light collection required to work with the latest high resolution scanners on the market for sophisticated gauging and inspection solutions. Ideal for integration into factory assembly lines, the lens features a locking iris and focus, which prevents unintentional lens adjustments in high vibration environments. Each lens uses an image side telecentric design that eliminates illumination roll off, which can be especially prevalent in systems using larger sensors.

Optional mounting clamp secures lens to benchtop

TECHSPEC High Resolution 5 Megapixel Telecentric Lenses are available in 1.7X, 0.9X, 0.5X and 0.28X magnifications. A variety of camera mounts are available. An optional mounting clamp, available for each size lens, is highly recommended to secure the lens to benchtop setups. TECHSPEC High Resolution 5 Megapixel Telecentric Lenses are in stock and available for immediate delivery.

TECHSPEC High Resolution Telecentric Lenses will be on display at Robots and Vision, Booth 908.

About EO:

Edmund Optics® (EO) is a leading producer of optics, imaging, and photonics technology for R&D, electronics, semiconductor, pharmaceutical, biomedical, and military markets around the globe. EO is the world's largest supplier of off-the-shelf optical components. Customers can purchase items by contacting EO at 1-800-363-1992, via the new interactive catalog, the website at www.edmundoptics.com, or requesting their print catalog.

Company Contact:

Marisa Edmund
Vice President, Marketing
Edmund Optics, Inc.
101 East Gloucester Pike
Barrington, NJ 08007 U.S.A.
Phone: 1-800-363-1992
Fax: 1-856-573-6295
email: medmund@edmundoptics.com

More from Communication Systems & Equipment