Telecentric Lenses handle large-format image sensors.
Press Release Summary: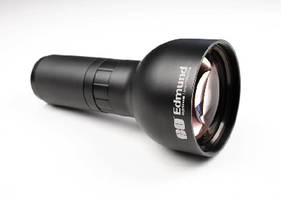 Designed to eliminate perspective error, TECHSPEC® Large Format Telecentric Lenses can accommodate sensors measuring up to 28.7 mm diagonal. Even with 5 µm sensors, contrast is greater than 20% across entire field, with telecentricity and distortion of less than 0.1%. Available in C-mount, T-mount, and F-mount models, lenses feature adjustable aperture from F/6-F/22 and locking iris, which prevents changes in adjustment in high-vibration environments.
---
Original Press Release:

Telecentric Lenses Handle Large-Format Image Sensors



March 12, 2009, Barrington, NJ. - Edmund Optics (EO), the premier provider of optical components, today announced the availability of large format telecentric lenses that can accommodate the newest large format industrial image sensors available. Telecentric lenses are designed to eliminate the perspective error found in conventional lens systems, increasing measurement accuracy within vision systems.

EO's TECHSPEC® Large Format Telecentric Lenses can accommodate image sensors measuring as large as a 28.7 mm diagonal. This makes them compatible with large format area sensors such as the 1.2-inch Kodak 4MP and 4K-pixel line scan sensors. The lenses provide high-resolution, high-precision images with a large field of view (FOV). With their large FOV's they allow for higher inspection speed to maximize throughput. Even with 5-µm sensors (100 lp/mm), contrast is greater than 20% across the whole field, with telecentricity and distortion of <0.1%.

"Telecentric lenses are ideal for high-precision applications such as metrology and microlithography," said Nicholas James, EO's Product Line Engineer. "In addition to eliminating parallax error, which normally makes nearer objects appear larger, they offer constant magnification regardless of distance. This eliminates two significant error sources, simplifying vision system operation while increasing accuracy. Our new large format lenses allow designers to gain these benefits while using state-of-the-art image sensors."

The lenses are available in a variety of mounting formats, including C-mount, T-mount, and F-mount for compatibility with many large-sensor cameras and easy system integration. An optional mounting clamp is available for use in benchtop setups. Lens aperture is adjustable from F/6 to F/22 and a locking iris prevents changes in adjustment in high vibration environments.

Price and Availability

EO's Large Format Telecentric Lenses are available from stock with four different mounting options, including two different flanges for T-mount systems. Prices start at $3250. Please contact sales@edmundoptics.com for volume pricing.

Large Format Telecentric Lenses will be on display at the Vision Show (booth 509) and Robots and Vision (booth 908).

About EO:

Edmund Optics® (EO) is a leading producer of optics, imaging, and photonics technology. Supporting the R&D, electronics, semiconductor, pharmaceutical, biomedical, and military markets around the globe; EO products are used in a variety of applications ranging from DNA sequencing to retinal eye scanning to high-speed factory automation. EO's state of the art manufacturing capabilities combined with its global distribution network has earned it the position of the world's largest supplier of off-the-shelf optical components. Customers can purchase items by contacting EO at 1-800-363-1992, via the catalog, or via the website at www.edmundoptics.com.

Company Contact:

Marisa Edmund

Vice President, Marketing

Edmund Optics, Inc.

101 East Gloucester Pike

Barrington, NJ 08007 U.S.A.

Phone: 1-800-363-1992

Fax: 1-856-573-6295

email: medmund@edmundoptics.com

More from Machinery & Machining Tools