TeamMate Classroom HVAC Solution requires less R-410A refrigerant.
Press Release Summary: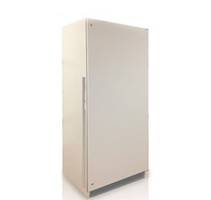 Equipped with CF microchannel evaporator coil technology, TeamMate Classroom HVAC meets DOE efficiency standards. Featuring smart integrating capabilities, unit works with existing thermostats or Modine Control systems. Designed to provide noise reduction and efficiency, Teammate is offered as single package vertical unit.
---
Original Press Release:
Modine Introduces New TeamMate™ Classroom HVAC Solution
Cutting-edge HVAC manufacturer unveils the latest in continuous comfort HVAC classroom solutions with the TeamMate™ single packaged vertical unit
Modine Manufacturing Company (NYSE: MOD), a leader in technology in the HVAC industry, has unveiled their latest in classroom HVAC solutions with the TeamMate single packaged vertical unit cooling and heat pump. Designed with the same footprint as the Modine ClassMate®, the TeamMate is a value-priced single package vertical unit engineered to provide efficiency, noise reduction and a small footprint at a budget conscious price.
"The TeamMate is the perfect cooling and heating solution to meet the needs of any classroom," said Kimberly Raduenz, marketing communications manager for Modine. "It provides all the same reliability and comfort you've come to expect from Modine classroom products and is equipped with our patented CF® coil. In addition, the reduced internal volume requires less R-410A refrigerant for an even more environmentally-friendly design."
Features of the TeamMate include:
The patented CF microchannel evaporator coil technology only found with Modine
Smart integration capabilities to work with your existing thermostat or Modine Controls Systems
Meets DOE efficiency requirements
Decreased sound and power output
"Overall, what you get with the TeamMate is greater efficiency, less noise and easy service and installation," said Raduenz. "We also offer several options to help you customize your TeamMate model for your school's needs, from a sound-reducing compressor acoustic wrap to an energy recovery ventilator."
For more information about the new TeamMate classroom HVAC solution, including specs, visit www.modinehvac.com.
About Modine
Modine, with fiscal 2016 revenues of $1.4 billion, specializes in thermal management systems and components, bringing highly engineered heating and cooling technology and solutions to diversified global markets. Modine products are used in light, medium and heavy-duty vehicles, heating, ventilation and air conditioning equipment, off-highway and industrial equipment and refrigeration systems. Modine is a global company headquartered in Racine, Wisconsin (USA), with operations in North America, South America, Europe, Asia and Africa.
For more information about Modine, visit www.modine.com.
Media Contact:
Heather Ripley
(865) 977-1973
 SOURCE Modine Manufacturing Company
Web Site: http://www.modine.com
More from Packaging Products & Equipment