Target Connectors come with gold-plating.
Press Release Summary: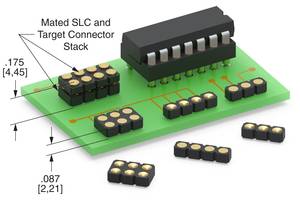 Available in single or double row configurations with each model in concave or flat target faces, Target Connectors are used as mating surface for spring-loaded pins on PCB board. Featuring precision-machined pins with ±0.0381mm tolerance length offers 0.13 mm co-planarity, connector insulators are molded from high temperature plastic. Connectors come with above board height of 2.21 mm.
---
Original Press Release:
New Low Profile Target Connectors
Mill-Max is excited to announce the release of our lowest profile target connectors with an above board height of only .087" (2,21mm). Target connectors are used in place of SMT pads on a PCB as the mating surface for spring-loaded pins. They provide increased durability and are useful in achieving specific distances between boards.
To augment our existing .100" (2,54mm) grid target connector lineup we are introducing four new, low profile products. These connectors are all surface mount, available in single or double row packages and are offered with flat or concave target faces. Concave face targets provide additional surface area for mating and can aid in centering/alignment of components and/or boards fitted with spring-loaded connectors. Precision-machined pins with an overall length tolerance of +/- .0015" (+/-.0381mm) help to achieve a co-planarity of .005" (,13mm) or better for connectors up to 1" (25,4mm) long. Advanced machining techniques are used to ensure no burr protrusion on either the target face or the surface mount termination end.
Here is the part number breakdown for these new connectors:
               Part Number                                          Number of Rows                              Target Face Style                                                         319-10-1XX-30-540000                                     Single                                                 Flat                                                                     319-10-1XX-30-550000                                     Single                                             Concave                                                                 419-10-2XX-30-540000                                     Double                                               Flat                                                                     419-10-2XX-30-550000                                     Double                                           Concave
Combining target connectors with spring-loaded connectors on opposing boards can be a simple and convenient solution for making connections between stacked boards or docking stations and devices. These new connectors are ideally suited for low profile applications where multiple connections are required. To achieve an ultra-low profile mated pair using these target connectors, the Mill-Max series 815 and 817 (single and double row respectively) are the ideal choice. The 815/817 connectors, compressed to ½ stroke and used in combination with these new low profile target connectors, provide a board to board spacing of just .175" (4,45mm).
All the pins are precision-machined and gold-plated for environmental protection, durability and good conductivity. The connector insulators are molded from high temperature plastic suitable for most soldering process including RoHS environments. All of these products are RoHS compliant. See the attached catalog pages for further details.
Mill-Max is the leading US manufacturer of machined interconnect components with a vertically integrated manufacturing facility headquartered at 190 Pine Hollow Rd., Oyster Bay, NY 11771. Its full product line includes spring-loaded connectors, SIP, DIP, PGA and BGA sockets, board-to-board interconnects and pin headers, surface mount and custom products, PCB pins and receptacles, solder terminals, wrapost receptacles and terminals. The company's complete manufacturing facility includes engineering, tooling, primary and secondary machining, stamping, plating, injection molding, and assembly.
For more information, contact
Robin D. Ritter,
Marketing Coordinator,
Mill-Max Mfg. Corp.,
190 Pine Hollow Road
PO Box 300
Oyster Bay, NY 11771-0300
Phone: (516) 922-6000
Fax: (516) 922-9253