Tapping Head facilitates tapping of small holes up to ½ in.
Press Release Summary: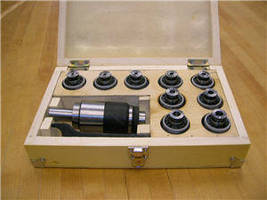 Compatible with any small CNC using R8 or MT3 taper, Tension/Compression Tapping Head model PN 31163 includes tapping chuck and nine quick-change collets. It is compatible with ANSI-compliant inch (#0-½ in.) and metric (M1.6-12) taps and has ¾ in. of float built in to maintain coordination of spindle speed and feed rate. Tool works seamlessly with PCNC 1100 mill, and can also be used with other manufacturers' machines that can accept ¾ in. shank.
---
Original Press Release:

New Tormach Tension/Compression Tapping Head Enhances Tapping of Holes up to 1/2"



New offering makes the Tormach Tooling System (TTS) even more versatile.

Waunakee, WI, January 25, 2009 - Tormach, innovators of CNC technology, announced today the addition of another new product to its CNC offerings - the Tension/Compression Tapping Head (PN 31163).

Designed to simplify the quick and accurate tapping of small holes, the Tension/Compression Tapping Head works seamlessly with the Tormach Tooling System (TTS). It includes a tapping chuck and nine quick-change collets and is compatible with both ANSI-compliant inch (#0 - 1/2") and metric (M1.6 - M12) taps.

The Tension/Compression Tapping Head has up to 3/4" of float built in to maintain coordination of spindle speed and feed rate, and provides fast and precise tapping of small holes without an overly complicated mechanism. "It's a really easy system to use and set up, and programming is quick and easy using Tormach's PC-based control software or standard NC code," according to Tormach CEO Greg Jackson.

The Tension/Compression Tapping Head is recommended for use on Tormach PCNC 1100 Series II machines or Pre-Series II machines that have digital spindle drive upgrade kit (PN 31090) installed. It is also compatible with other manufacturers' machines that can accept a 3/4" shank. In addition to the new tension-compression head, Tormach also offers two sizes of reversing tapping heads (PN 30612 and PN 30613) in the TTS line.

The release of this tapping head adds another component to the successful and affordable Tormach Tooling System (TTS). TTS tools are compatible with any small CNC using R8 or MT3 taper. TTS tools provide quick, easy, and repeatable tool changing while maintaining excellent rigidity and precision. TTS tools work seamlessly with Tormach's PCNC 1100 and many other systems. Since its introduction in 2006, Tormach's PCNC 1100 mill has steadily won fans around the world by delivering an unrivaled combination of quality and affordability.

For more information, refer to http://tormach.com/document_library/DS_Tapping_Heads.pdf

About Tormach

The people at Tormach are dedicated to delivering tools, accessories, and components of unprecedented value in the world of CNC and motion control. Whether you are involved in R&D, education, short-run production, or simply entrepreneurs with new ideas, Tormach products allow you to make what you need easier, quicker, and more affordably.

Tormach is headquartered in Waunakee, Wisconsin. For more information about 'personal CNC' mills and accessories, please visit www.tormach.com or contact Tormach directly at info@tormach.com

Tormach LLC

608-849-8381 x23

204 Moravian Valley Rd. Suite N

Waunakee, WI 53597

www.tormach.com

Related