T2 Bridge enables insertion of local content in SFN networks.
Press Release Summary: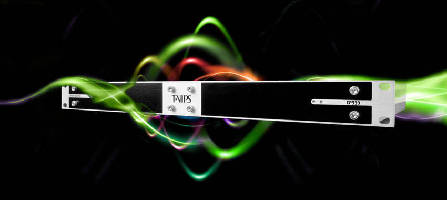 Supporting regional adaption in DVB-T/T2 Single Frequency Networks, CP330 T2 Bridge enables distribution of signals to digital terrestrial transmitters using satellite or hybrid infrastructures. Deterministic remultiplexing creates identical signals at all transmitter sites in same region, while support for Multiple Physical Layer Pipes enables adaptation through PLP replacement in region - an alternative approach for complying with SFN requirements.
---
Original Press Release:

T-VIPS' New CP330 T2 Bridge Enables Terrestrial Operators to Design Efficient and Highly Flexible Satellite or Hybrid Distribution Networks for Single Frequency Networks



Oslo, Norway - T-VIPS, a global leader in Digital Terrestrial TV solutions, today announced the launch of the CP330 T2 Bridge, which enables efficient regional adaption in DVB-T/T2 Single Frequency Networks. Where terrestrial network operators face particular challenges in frequency availability, today's favoured approach is to deploy cost and frequency efficient SFNs. There has however been a trade-off. SFN operation significantly impacts the operator's ability to insert local content to a national TV service. The launch of the T-VIPS CP330 offers a flexible solution for operators to cost-effectively insert local content in SFN networks - easily. The CP330 T2 Bridge has been field-tested at major DVB-T2 reference sites and is ready to ship.

The CP330 offers network operators great flexibility both in how they design their distribution networks and how they insert regional and local content. The T2 Bridge enables the distribution of signals to digital terrestrial transmitters using satellite or hybrid (satellite, fiber and microwave) infrastructures.

With the T-VIPS CP330, it is now possible to reuse a Direct To Home (DTH) satellite signal to directly feed terrestrial transmitters. By utilizing the DTH satellite and the advanced deterministic multiplexing processes of the CP330, terrestrial operators now have a highly cost-effective distribution solution that is SFN compliant.

The main advantages of the CP330 are:

o Available in different modes for maximum flexibility:

o Support for deterministic remultiplexing, which creates identical signals at all transmitter sites in the same region, and offers the flexibility to implement a centralized model or carry out local insertion at transmitter sites

o Support for Multiple Physical Layer Pipes (MPLP), enabling adaptation through PLP replacement in the region - an alternative approach for complying with SFN requirements

o Increased reliability through integration with T-VIPS' TNS541 and TNS544 seamless switches

o Smart PSI/SI processing to deliver a correct and complete EPG.

"Up until now DVB-T2 operators have been unable to effectively utilize DTH satellite signals for primary distribution to SFN transmitter sites. That changes with the launch of the T-VIPS CP330." said Johnny Dolvik, CEO, T-VIPS. "With support for PLP replacement and deterministic remultiplexing, T-VIPS solves the issues of localizing a DTT offering while maximizing efficiency through SFN operation. Most important of all the CP330 allows operators to do this at the same time as utilizing the DTH satellite signal. We believe that this significant leap in flexibility and efficiency will make the CP330 an important part of the DTT operator's toolkit."

Applications

o Regional adaptation in SFN networks, where deterministic output TS or T2-MI packet sequence is crucial

o Insertion of local content using DTH satellite signals or infrastructures for primary distribution in a DTT network.

Key Features

o Deterministic multiplexing: ensures that the TS output from independent CP330s always produce identical signals within an SFN region

o PLP Replacement: replacement of PLPs in a centrally generated T2-MI stream with regional PLPs

o Rate adaptation and in-band configuration

o PID filtering and remapping

o Deterministic PCR re-stamping

o Transport Stream Monitoring, including TR 101 290 Priority 1 monitoring for all incoming signals

o Flexible Transport Stream interfacing - DVB-ASI or IP Gigabit Ethernet interfaces

o Compact, cost-effective 2 units in 1RU

o User-friendly configuration and control; WEB/XML based remote control and SNMP agent for easy integration with NMS systems, integrated with T-VIPS Connect.

About T-VIPS AS

T-VIPS is a global leader in professional video transport solutions. We help our customers deliver next-generation TV services such as 3D, HDTV, live events and local content. Our IP based video transport and Digital Terrestrial TV solutions allow network operators, broadcasters, and content providers to deliver the highest picture quality at the lowest cost. Leveraging our technology expertise in video over IP, video compression, transport stream processing, monitoring and seamless switching we deliver products and solutions that improve Quality of Service (QoS), ensure high quality in live contribution workflows and enable state of the art DTV.

Our wide range of products enables fast time-to-market, increased reliability and improved video quality. We also provide fully customizable solutions, tailored to customer needs to deliver increased efficiency in video transport infrastructures.
T-VIPS is driven by innovation, customer success, and the application of new technologies to enhance both traditional video transport and Over The Top infrastructures and ensure the delivery of high quality content to TV ready mobile devices.

More from Health, Medical, & Dental Supplies and Equipment