T-Slot Stanchions position equipment precisely.
Press Release Summary: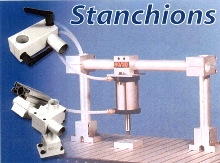 Stanchions are available in 40 models, including single or double shaft bases, blank or pre-drilled mounting plates, and single or double mounting blocks in 1, 1.5, and 2 in. bore sizes. Quick Clamp series of stanchions allow user to make fast adjustments without tools. Applications include positioning camera equipment, scanning devices, light sources, photo sensors, computer monitors, and actuators.
---
Original Press Release:
Stanchions Add Versatility

Add a fourth or fifth axis of adjustability to a T-Slotted frame with stanchions. More than forty standard stanchions including single or double shaft bases, blank or pre-drilled mounting plates, and single or double mounting blocks in 1", 1.5", and 2" bore sizes are available to add versatility to any project.

Stanchions allow you to precisely position everything from camera equipment to scanning devices, light sources to photo sensors, and computer monitors to actuators. The Quick Clamp series of stanchions even allow you to make fast adjustments without the use of tools. If you need ergonomic adjustability, or need to precisely mount a device, stanchions are the answer.

For more information on this versatile product visit www.8020.net or contact:

80/20 Inc.

1701 South 400 East

Columbia City, IN 46725-8753

Phone: 260-248-8030 or 877-248-8020

Fax: 260-248-8029

E-mail: [email protected]

Web Site: www.8020.net