Syringes apply small dots, beads, and potting.
Press Release Summary: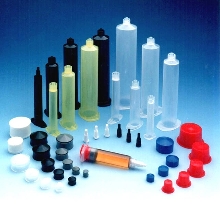 Polypropylene Syringes feature zero-draft barrel IDs, drip-free pistons for dispensing light fluids, .062 in. wide dispensing orifice for proper fluid flow, and ANSI/HIMA MD70-1-1983 standard luer lock threads. They are offered in black for visible curing, yellow UV block translucent for up to 390 nm, and clear for dispensing epoxies, glues, adhesives, and solder paste. Sizes range from 1 to 50 cc.
---
Original Press Release:
Polypropylene Syringes for Small Dots, Beads, and Potting

A full line of industrial polypropylene syringes that are offered in three colors and six sizes for dispensing a wide range of light and viscous fluids is being introduced by Fishman Corp. of Hopkinton, Massachusetts.

Fishman Industrial Polypropylene Syringes feature zero-draft barrel I.D.s, drip-free pistons for dispensing light fluids, have a .062" wide dispensing orifice to assure proper fluid flow, and ANSI/HIMA MD70-1-1983 standard luer lock threads. Certified silicone-free, these syringes come in three colors and six sizes for applying small dots, beads, and potting.

Offered in 1 to 50 cc sizes, supplied as complete packages, including barrels, pistons, end-, and tip caps, or as individual components, Fishman Industrial Polypropylene Syringes are available in black for visible curing applications, yellow UV block translucent for up to 390 nm, and clear for dispensing a wide range of epoxies, adhesives, glues, and solder paste.

Fishman Industrial Polypropylene Syringes are priced from $ 0.26 (list) complete, depending upon material, size, and quantity. Literature, price quotations, and samples are available upon request.

For more information contact:

Fishman Corporation

Amy D'Amico, Marketing Coordinator

192 South St.

Hopkinton, MA 01748

(800) 433-2115 FAX (508) 435-2119

e-mail: fishman@fishmancorp.com

www.fishmancorp.com
Related