Switching Power Modules reduce standby power consumption.
Press Release Summary: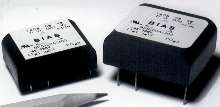 Series BPS100 and BPS200 modules provide 1 and 2 W of standby power, respectively, to household appliances and consumer electronics. Utilizing technology that eliminates line conducted EMI, board mountable modules can be used in PCBs on standard pin grid arrays. These UL, CSA, and TUV approved products incorporate custom integrated circuits within packages ranging from 0.6-1 in³. Nominal output voltage of 14 Vdc is adjustable from 5-14 Vdc.
---
Original Press Release:

Switching Power Modules Reduce Standby Power Consumption; Meet Initiatives for Appliances and Consumer Electronics Worldwide


PALATINE, ILLINOIS: BIAS Power Technology's new BPS100 and BPS200 series Switching Power Modules are UL, CSA and TUV approved and designed to provide standby power to applications found in household appliances and consumer electronics. These low-cost modules provide up to 1 and 2 watts of output power and comply with the European Code of Conduct and other global standards for power consumption. BIAS Power's unique patented technology virtually eliminates all line conducted EMI, thus eliminating the need for additional circuit components. BPS 100 and 200 are board mountable modules that can be used in printed circuit boards on standard pin grid arrays.

BIAS Power's BPS modules incorporate a custom integrated circuit within a small package ranging from 0.6 in³ (15 cm³) to 1 in³ (16.8 cm³). The small package size saves printed circuit board real estate and promotes opportunities for immediate "design-in" solution. BIAS Power's unique products regulate your standby power requirements with one component.

The BIAS BPS100 and BPS200 products provide a choice of 1 and 2 watt output power, respectively. Nominal output voltage of 14 VDC (V0) is adjustable from 5 - 14 VDC. An optional regulated output of 5.0 VDC (Vr) to maintain standby functions such as LED display, microprocessor or remote control sensor is also available.

BIAS AC/DC power supplies can be used worldwide in consumer, commercial and industrial products. These UL approved power supplies can reduce standby power consumption by replacing current discrete circuitry enabling products to meet new global standby power initiatives.

Typical applications include standby power for household appliances, such as microwaves, and consumer electronics, such as TV's. These supplies are ideal design-ins for industrial application or when small amounts of power are required to power the transmission of data. Additional applications include automatic meter readers, home networking modules and support power for large switching power supplies.

Typical pricing for the BPS100, one watt module is under$4 in quantities of 10,000. Competitive high volume pricing is available upon request

For complete details, application and design engineering support or product selection assistance, please contact BIAS power Technology, Inc. headquarters at:

Bias Power Technology
414 South Vermont St.
Palatine IL. 60067
Ph (847)-991-8516
Fx (847)-991-8526
sales@biaspower.com

or one of their world wide distributors or factory representatives listed on their web site at www.biaspower.com

About BIAS Power Technology
BIAS family of products is currently available from ¼ to 4 watts of output power with physical size ranging from 0.6 to 1.7 cubic inches. The BPS Series of power modules incorporate custom integrated circuits and offer even higher efficiency with a built in sleep mode feature that complies with the European Code of Conduct. BIAS Power's custom design capabilities can meet higher power and special application needs. BIAS Power serves its global marketplace from its headquarters located in the Chicago suburb of Palatine, Illinois with manufacturing facilities located in San Jose, Costa Rica.

More from Machinery & Machining Tools