Suspension requires 24.75 in. package space.
Press Release Summary: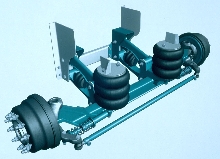 ComposiLite(TM) 13,200 lb. capacity suspension weighs 812 lbs. It utilizes ParaLift(TM) Ultra design, and is constructed of corrosive-resistant aluminum, composite tie-rod, and in-line air springs. ComposiLite measures 24.75 in. from front edge of hanger to centerline of axle and provides 8 in. of lift, 2 in. of total axle travel, and wheel cut of 27 deg.
---
Original Press Release:
Hendrickson's Composilite(TM) Technology Leads The Lift Axle Industry In Lightweight Suspension Systems

HEBRON, OH-Hendrickson International's ComposiLite, debuting at the 2002 Mid-America Truck Show and ConExpo-Con/Agg, brings a 13,200 lb. capacity suspension weighing only 812 lbs. to the lift axle industry.

Hendrickson developed ComposiLite to fulfill the requirements of weight-conscious haulers. It maintains the simple, low-maintenance design of the ParaLift(TM) Ultra while trimming more than 150 lbs. These weight savings have been made possible by utilizing aluminum components and lightweight composites.

ComposiLite(TM) features corrosive resistant aluminum, a composite tie-rod, and in-line air springs. The aluminum frame hangers and upper air spring plates provide easy drilling and can be mounted separately from the rest of the suspension. The composite tie-rod provides a weight savings without compromising the durability of the suspension. The in-line air springs provide maximized packaging, eliminate the confusion of inboard versus outboard mounted air springs and remove the risk of possible driveline interference.

ComposiLite measures 24.75 inches from front edge of hanger to centerline of axle, allowing multiple axle configurations, provides 8 inches of lift, 2 inches of total axle travel, and a wheel cut of 27 degrees.

The launch of ComposiLite extends the leading steerable suspension family, the ParaLift(TM) Series. Through the years, the ParaLift has evolved to meet the industry needs. The original 13,200 lb. capacity ParaLift weighed 1220 lbs., with a package space of 27.5 inches. ComposiLite weighs more than 300 lbs. less and requires 2.75 inches less package space.

"The truck industry will see that Hendrickson's new ComposiLite is not only the lightest steerable suspension available on the market today, it also fulfills every customer's needs; quick installation, streamlined design and easy maintenance," reports Paul Brown, customer service manager.

For additional information about the new ComposiLite(TM) or any Hendrickson lift axle, contact Hendrickson Auxiliary Axle Systems, Hebron, Ohio, toll free at 800-660-2829 or 800-660-2843.

Hendrickson International is one of the largest global suppliers of truck and tractor suspensions, trailer suspensions, lift axles, springs, bumpers and stamped components to the commercial transportation industry. Headquartered in Woodridge, Ill., Hendrickson has been meeting the needs of the transportation industry for more than 75 years. Visit the Hendrickson web site at www.hendrickson-intl.com.
More from Electronic Components & Devices