Surface Mount LED addresses optoelectronic applications.
Press Release Summary: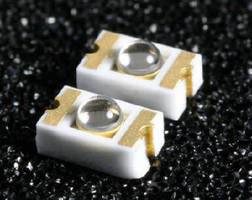 Housed in 3.5 x 0.94 x 2.2 mm package with domed lens, MTPS4088CP Point Source LED features typical power output of 3.0 mW and viewing angle of ±20º. LED die configuration provides unobstructed, radiated beam pattern by masking die and relocating topside electrode. By eliminating dark spot associated with center of conventional LEDs, 880 nm LED yields optimal results when used with application specific optics to obtain desired radiation pattern characteristics.
---
Original Press Release:

Marktech's New Domed Point Source Surface Mount LEDs Address Sophisticated Optoelectronic Applications



Latham, New York: Marktech Optoelectronics of Latham, NY, a leader in the design, development and sales of optoelectronic components, today announced the addition of the MTPS4088CP Surface Mount Point Source LED that is designed to deliver precise and consistent performance in the most demanding environments, where space constraints are an issue.

The MTPS4088CP, 880nm point source LED features a 3.5 x 0.94 x 2.2mm package with a domed lens, and a typical power output of 3.0mW. Developed primarily for optical encoder, optical switch, scanning and precision edge sensing applications, this ±20º Point Source LED utilizes a unique, LED die configuration which provides an unobstructed, radiated beam pattern by masking the die and relocating the topside electrode (see figure 1). By eliminating the "dark spot" typically associated with the center of conventional LEDs, the point source LED yields superior results when used with application specific optics to obtain desired radiation pattern characteristics. The device also offers an extremely low thermal coefficient.

In addition to its newest Surface Mount package, Marktech also offers Point Source LEDs in TO-18, TO-46 and Mini Pill packages with other configurations available. Marktech's Point Source LEDs come with or without optics to provide the designer with optimum flexibility in sophisticated design efforts. Point Source LEDs supplied with factory optics provide an extremely narrow, near parallel radiation pattern. The optical grade, parabolic glass lens is specifically designed to optimize the effects of the Point Source chip. Devices supplied without optics are supplied with a glass window allowing the designer to utilize proprietary collimating or other application
specific optics to take full advantage of the undistorted beam.

Pricing for the MTPS4088CP starts at $8.99 at 1-100 pieces. For additional information any of our Point Source products contact Marktech Optoelectronics at 800.984.5337 or info@marktechopto.com, or visit our website at www.marktechopto.com for specs and additional information.

Marktech Optoelectronics: Marktech Optoelectronics is an engineering and design group with over 25 years of opto experience. We continue to focus on the latest state-of-the-art technologies incorporating III-V materials, components and assemblies in order to provide innovative solutions that are designed to meet the needs of our customers.


More from Electrical Equipment & Systems