Submerged Arc Flux is suited for pipe mill welding.
Press Release Summary: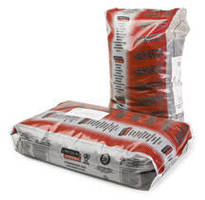 Combination of Lincolnweld® SPX80 flux and LA-81 wire meets F9TA4G-EG AWS classification and allows welds to exceed mechanical property requirements for Artic grade pipe. Designed for inner/outer diameter submerged arc welding, flux is suited for nondestructive testing and has H8 diffusible hydrogen levels for minimized coating defects on steel. Other SPX80/L-61, L-70, and LA-90 wire combinations are available, which can meet many AWS-classifications for multiple pass/2-run applications.
---
Original Press Release:

Lincoln Electric Designs New Submerged Arc Flux Specifically for Pipe Mill Welding



Cleveland - To meet the demands of the global pipe fabrication industry, Lincoln Electric has introduced Lincolnweld® SPX80 - a submerged arc flux designed to meet the specific requirements of spiral pipe seam welding of up to API X80 grade pipe.

Created for inner and outer diameter submerged arc welding in two-run or multi-pass applications, Lincolnweld SPX80 provides a number of industry leading features, including:

Low Temperature Impact Properties - Capable of meeting arctic grade toughness requirements with test results exceeding 20 ftolbf (27 J) @ -60°F (-51°C) with LA-81.

Smooth Bead Profile - Achieve optimal appearance on both inner and outer diameter welds.

Self-Peeling Slag - Clean and easy slag removal for reliable non-destructive testing results.

High Speed Welding Capability - Faster travel speeds increase productivity.

H8 Diffusible Hydrogen Levels - Fewer coating defects on high strength steel.

For maximum performance, Lincoln Electric recommends Lincolnweld SPX80 be used with the Lincolnweld LA-81 electrode on two-run welding applications including API X80 grade pipe. The combination of Lincolnweld SPX80 flux and LA-81 wire meets the F9TA4G-EG AWS classification and allows welds to exceed the demanding mechanical property requirements specified for artic grade pipe.

Lincoln also offers other flux/wire combinations with Lincolnweld® SPX80 flux including Lincolnweld L-61, L-70, and LA-90 wire, which are capable of meeting many AWS classifications for both multiple pass and two-run applications.

To request a copy of Lincoln's Lincolnweld SPX80 product literature, call (888) 355-3213 or visit www.lincolnelectric.com to obtain Bulletin C5.10.1.

The Lincoln Electric Company, headquartered in Cleveland, Ohio, is the world leader in the design, development and manufacture of arc welding products, robotic arc welding systems, fume extraction equipment and plasma and oxyfuel cutting equipment. The company holds a leading global position in the brazing and soldering alloys market.

More from Material Handling & Storage