Styrenic TPEs suit automotive exteriors.
Press Release Summary: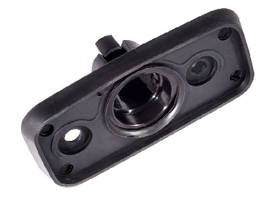 Exhibiting higher flow than comparable TPVs, Sarlink® ME-2200 Series enables molders of exterior components such as gaskets, seals, and trim to process complex, intricate designs while shortening cycles. Products are available in hardnesses from 65 Shore A to 40 Shore D. Offering UV stability, good flexibility over wide temperature range, and Class A surface appearance, compounds are readily colored and do not require pre-drying prior to molding.
---
Original Press Release:

New Styrenic TPEs for Auto Exteriors Provide Cost and Processing Benefits Versus Standard TPVs



In addition to Sarlink® TPVs from Teknor Apex, Molders of Exterior Seals and Trim Now Have the Option of Sarlink TPEs, Especially for Complex Designs



PAWTUCKET, RI, U.S.A., – Teknor Apex Company has expanded its "polymer-neutral" product offering for automotive exteriors by developing styrenic thermoplastic elastomers (TPEs) with alternative cost/performance profiles to those of widely used thermoplastic vulcanizates (TPVs). 



New Sarlink® ME-2200 Series styrenic TPEs exhibit higher flow than comparable TPVs, enabling molders of exterior components such as gaskets, seals, and trim to process complex, intricate designs while shortening cycles through reduced packing and cooling time. In applications where TPV compounds are over-engineered, these new TPE compounds provide a cost savings while still meeting the performance requirements of the part. Like TPVs, the Sarlink ME-2200 series compounds are less dense than EPDM and PVC, yielding weight savings of up to 15 and 23%, respectively.



Offered alongside Teknor Apex's well established Sarlink® TPV compounds, Sarlink ME-2200 Series styrenic TPEs are available in hardnesses from 65 Shore A to 40 Shore D. They exhibit excellent UV stability, provide good flexibility over a wide temperature range, and yield a Class A surface appearance. The compounds are readily colored and, unlike many TPVs, do not require pre-drying prior to molding.



"Sarlink ME-2200 Series TPEs are already in commercial use for static seals, cowl vent seals, and mirror gaskets," said Jeffrey E. Dickerhoof, senior marketing and sales manager for the Thermoplastic Elastomer Division of Teknor Apex. "These new products are the latest examples of a Teknor Apex program to offer a wide-ranging, polymer-neutral portfolio, one that enables us to recommend a compound not because it happens to be what we make but because it is exactly the right material for a customer's application."



Data on selected Sarlink ME-2200 Series TPEs appear in the accompanying table. All compounds in the series are available worldwide in both black and natural formulations.



Besides the new compounds for exterior parts, other styrenic TPEs recently introduced by Teknor Apex for automotive applications include Sarlink® ML-1100 and ML-1600 Series for molded interior components; and a super high-flow series, Sarlink® ME-2600, for window encapsulation.



About Teknor Apex

Teknor Apex Company, a privately held firm founded in 1924, is one of the world's leading custom compounders of plastics.  Teknor Apex produces flexible and rigid vinyl, thermoplastic elastomers, nylons, color masterbatches, specialty chemicals, and hoses. The company is headquartered in Pawtucket, RI, U.S.A. and operates thirteen facilities worldwide in the United States, the Netherlands, China and Singapore. To learn more visit: www.teknorapex.com.



The Thermoplastic Elastomer Division of Teknor Apex Company offers the broadest portfolio of TPE compounds available from a single source. The division compounds TPEs at eight locations in the U.S., Europe, and Asia under the brands: Elexar® (electrical and electronics applications), Medalist® (medical devices), Monprene® (consumer and industrial products), and Sarlink® (transportation).



READER INQUIRY INFORMATION: 



Americas:

Teknor Apex

505 Central Avenue

Pawtucket, RI  02861 U.S.A. 

Tel: 1-401-725-8000

Tel. from U.S. only: 1-866-GET-TPEs (1-866-438-8737) 

Fax: 1-401-728-5680

E-mail: tpe@teknorapex.com  



Europe:

Teknor Apex

Mijnweg 1, 6167AC

Geleen, Netherlands

Tel: 31 (0) 46-7020950

Email: eutpe@teknorapex.com  



Asia:

Teknor Apex Asia Pacific

41 Shipyard Road

Singapore 628134 

Tel: 65-6265-2544 

Fax: 65-6265-1821 

Email: apactpe@teknorapex.com

Related