Industrial / Specific Purpose Computers
STRONGARM Redefines Industrial Computing with New D7 Series PC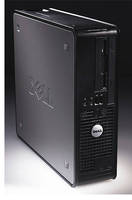 PC based on global manufacturer's platform is now suitable for the plantfloor

December 3, 2008 - (Horsham, PA) STRONGARM Designs ("STRONGARM"), the leader in plant floor operator stations, today announced its new D7 line of industrially hardened computers. Manufactured exclusively for STRONGARM, the D7 provides the manufacturing, industrial, defense, and transportation markets with a computing system based on the award-winning Dell(TM) Optiplex(TM) platform that is designed for higher temperature environments. This simplifies extending IT standards into uncontrolled environments delivering unmatched reliability, technology and supportability.

"The STRONGARM D7 redefines what customers can expect from industrial computers," said Tom Holden, President and Chief Executive Officer of STRONGARM. "By leveraging an industry standard platform and applying STRONGARM's industrialization expertise, the D7 delivers measurable benefits to our customers including superior quality, reliability, and next-generation performance, all in an industrially hardened computing system."

Working with the largest global computer suppliers, STRONGARM identified a standard PC platform that could be enhanced to increase its operating temperature range to be suitable for the industrial computing market. The higher temperature specifications allow the D7 to be used in uncontrolled environments with minimal or no cooling, while still maintaining the reliability, performance and maintainability customers expect from a global computer supplier. Additionally, when coupled with STRONGARM's comprehensive line of operator interface stations, companies can deploy a new level of quality and computing performance in any environment.

Key features of the D7 include:

o STRONGARM Optimized Operator Station Line: The D7 is ideal for use in STRONGARM's market-leading line of operator interface systems, reducing costs and ensuring the right solution for any harsh area application including: NEMA 12, 4 and 4X as well as systems designed specifically for aggressive wash down areas and hazardous locations.

o Cost Effective: The lowest total cost of any computer having this combination of processing power and industrial survivability.

o Higher Temperature Operation: The D7 operates in higher ambient temperatures (up to 46 DegC) allowing it to be used in uncontrolled environments such as warehouses, loading docks, and factories, without additional cooling.

o Reduced Operating Costs: The D7 can tolerate significantly higher ambient temperatures, therefore eliminating or reducing the energy required for cooling devices and the ongoing maintenance they require.

o Common Platform: The D7 features the Dell(TM) Optiplex(TM) 775SFF software image (bios, OS, drivers, utilities) and system management. Customers already using this platform now have a fully-compatible, fully-rugged system from STRONGARM which provides a single support model; reducing complexity and maintenance costs for IT managers.
o Latest Intel Processors: Intel® Core(TM) 2 Duo architecture - Dual Core technology with up to 3.0 GHz, 6M cache, VT, 1333 MHz FSB providing unmatched performance for today's power hungry applications.

o World Class Quality, Reliability and Support: The D7 offers the best quality, reliability and support in the industrial market, with a 3 year on-site warranty standard.

The D7 is available for immediate delivery from STRONGARM or one of its authorized business partners. STRONGARM also offers its complete operator station line preconfigured with the D7.

More from Sensors, Monitors & Transducers