Strong, Long-Lasting Tire is designed for light trucks and SUVs.
Press Release Summary: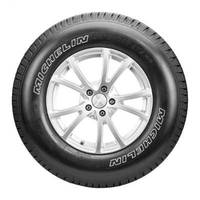 Delivering durable tread life for light trucks, SUVs, and crossovers, DEFENDER® LTX® M/S with EverTread™ is designed to hold up in tough conditions for extended periods while improving gravel wear, all-season confidence, and fuel efficiency. All-weather traction solution, designed to meet torque demands of modern vehicles, is offered with 50,000–70,000 mile warranty and comes in 71 sizes from 15–22 in. rim diameters. There are 45 fitments available.
---
Original Press Release:

MICHELIN DEFENDER LTX M/S Delivers Strong, Long-Lasting Tire for Light Trucks and SUVs



Tire features EverTread(TM) compound designed to meet the demands of today's hard-working vehicles



GREENVILLE, S.C. -- Michelin announced today that it is extending the well-known DEFENDER(®) promise of outstanding durable tread life to light trucks, SUVs and crossovers with the launch of the MICHELIN(®) DEFENDER(®) LTX(®) M/S with EverTread(TM)compound. EverTread uses a stronger, advanced tread compound that holds up in tougher conditions longer(1) and helps deliver improved gravel wear, all-season confidence and excellent fuel efficiency.



An evolution of the long-time consumer favorite, the MICHELIN LTX M/S(2), the DEFENDER LTX M/S with EverTread combines durable tread life and all-weather traction in a single tire that is designed to better meet the higher-torque demands of modern vehicles. Most light and heavy duty trucks produce twice as much torque as they did 20 years ago and some models produce nearly three times more torque. With the EverTread compound, the DEFENDER LTX M/S tire lasts 10 percent longer in severe conditions than its predecessor.(2)



"The MICHELIN DEFENDER LTX M/S was created to better address the size and power needs of today's trucks and SUVs, giving drivers what they want -- a combination of durability and longevity year-round -- without sacrificing safety and performance," said Scott Clark, chief operating officer of Michelin North America's passenger and light-truck tire division. "As vehicles evolve, we must develop tires that match their powertrain performance, resulting in a tire that is stronger and lasts longer, even in tough conditions."



DEFENDER LTX M/S tires are offered with a 50,000–70,000-mile warranty. The DEFENDER LTX M/S is now available to consumers across North America through more than 10,000 authorized dealer locations, in 71 sizes ranging from 15-inch to 22-inch rim diameters, with 45 fitments available in 2015 and 26 fitments arriving in 2016. The starting retail price is $130.



For more information on the DEFENDER LTX M/S, visit www.michelinman.com/defenderltxms.



About Michelin North America

Dedicated to the improvement of sustainable mobility, Michelin designs, manufactures and sells tires for every type of vehicle, including airplanes, automobiles, bicycles, earthmovers, farm equipment, heavy-duty trucks and motorcycles. The company also publishes travel guides, hotel and restaurant guides, maps and road atlases. Headquartered in Greenville, S.C., Michelin North America www.michelinman.com employs more than 22,750 and operates 20 major manufacturing plants.



(1) Based on resistance to gravel and severe wear testing compared to MICHELIN(®) LTX(®) M/S(2).



(2) Based on third-party treadwear tests using the MICHELIN(®) DEFENDER(®) LTX(®) M/S tire versus the  MICHELIN(®) LTX(®) M/S2 tire using size LT265/70R17 121/118R tires. Actual on-road results may vary.



CONTACT: Brian Remsberg, Michelin North America, 864-458-5908 or mobile 864-561-7459, brian.remsberg@us.michelin.com

More from Packaging Products & Equipment