Strain Gages offer ±5,000 microinch/in. strain range.
Press Release Summary: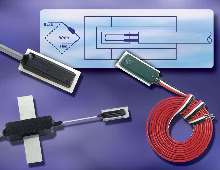 Sealed Weldable Strain Gages are pre-bonded with adhesive to thin, 0.005 in. stainless steel carrier. Each is fully encapsulated with protective coat for moisture resistance. Three leadwire configurations are available to provide best fit for application, environment, or installation. All units feature nominal resistance of 350 ohms, nominal gage factor of 2.0, gage length of 0.125 in., and shielded vinyl leadwire. Operating temperature range is 32-180°F.
---
Original Press Release:

New Vishay Micro-Measurements Sealed Weldable Strain Gages Provide Easy Installation and Withstand Water Pressure to 500 psi, Temperatures up to +180°F


MALVERN, PENNSYLVANIA - February 10, 2004 - Vishay Intertechnology, Inc. (NYSE: VSH) has released a new series of Sealed Weldable Strain Gages designed to provide easy installation and reliable performance for test and measurement applications, such as stress analysis testing, in a variety of demanding installations and environments.

The new strain gages from Vishay Micro-Measurements are specially designed to accommodate spot welding to structures and components in circumstances that preclude clamping and curing an adhesively bonded gage installation, or when high temperatures prevent the use of an elevated-temperature-curing adhesive. Each gage is pre-bonded with a high-performance adhesive to a thin 0.005-in. [0.127-mm] stainless steel carrier. To increase reliability and reduce the time and labor required for installation, each gage is sealed in-factory, fully encapsulated with a protective coat that provides resistance to moisture.

Three leadwire configurations are available to provide the best fit for a given application, environment, and/or installation. Gages in the R-leadwire series are designed for long-term, outdoor use in applications such as railroad and civil structures, where they may be exposed to oil and water splash or short-term submersion. These gages feature a metal carrier processed to give good first-cycle data, excellent fatigue resistance, and a high strain range.

The T-leadwire series of Sealed Weldable Strain Gages is typically used in larger civil structures including bridges, dams, and buildings, or in applications with exposures of up to a year in sea water. These gages are designed to withstand exposure to water pressures of up to 500 psi, as well as short-term (up to 14 days) immersion in crude oil. A flexible, stainless steel tube provides wire routing from the strain gage to a cable transition, thereby facilitating fine positioning of the sensor and providing strain relief.

Gages in the L-leadwire series offer performance comparable to that of gages in the T-leadwire series and - without an integrated cable transition - a more compact configuration that enables their use in applications with greater space constraints. These gages are suited for applications with smaller strains, but anchoring the leadwire during installation can provide for strain relief.

All three gage configurations feature nominal resistance of 350 Ù, a nominal gage factor of 2.0, a gage length of 0.125 in., and a shielded vinyl leadwire. Both axial and shear grid geometries are available. Vishay's Sealed Weldable Strain Gages have a ±5000 microinch/in. strain range and a normal operating temperature range of +32°F [0°C] to +180°F [+83°C]. Gages in this series may be installed on surfaces with a radius of curvature of 3.0 in. [76 mm] or greater.

Vishay Micro-Measurements is a division of Vishay Measurements Group. Vishay Measurements Group develops, manufacturers, and markets a broad range of sensors for a wide variety of test and measurement applications. These include electrical resistance strain gages for both stress analysis testing and transducer manufacturing applications, instrumentation, and hybrid strain gage assemblies under the Vishay Micro-Measurements and BLH brands, and transducers for OEM applications and certified load cells for electronic scales and other weighing applications under the Vishay Nobel, Sensortronics, Tedea-Huntleigh, BLH and Celtron brands.

Vishay Measurements Group is part of Vishay Intertechnology, a Fortune 1,000 Company listed on the NYSE that is one of the world's largest manufacturers of discrete semiconductors (diodes, rectifiers, transistors, optoelectronics, and selected ICs) and passive electronic components (resistors, capacitors, inductors, and transducers). The Company's components can be found in products manufactured in a very broad range of industries worldwide. Vishay is headquartered in Malvern, Pennsylvania, and has plants in 17 countries employing over 25,000 people. Vishay can be found on the Internet a www.vishay.com.

More from Electronic Components & Devices