Strain Gage Interface Card handles 4- and 6-wire circuits.
Press Release Summary: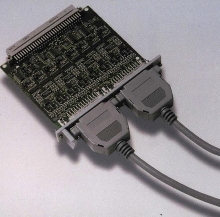 AP815, for single strain gages, allows connection of quarter bridges in 4-wire circuit, and half and full bridges in 6-wire circuit. With half bridges, card allows active and compensation strain gages to be arranged separately, and corrects voltage loss at connecting line. Five excitation voltages are available, providing measuring range of 8 to 80 mV/V and 0 V listening mode to assess line noise. Internal shunt resistor per channel is switchable upon user demand.
---
Original Press Release:
New 8-Channel Strain Gage Interface Card for 1/4, 1/2 and Full Bridges

Marlborough, MA - June 7, 2002 - HBM, Inc., a leading global supplier of test and measurement technology, data acquisition systems and software, announces a new addition to its standard-setting line of multi-channel strain gage measurement products. The new AP815 Interface Card is designed for single strain gages to allow the connection of quarter bridges in a four-wire circuit, and half and full bridges in six-wire circuits. This flexibility allows customers to stock just one type of general purpose card to handle a wide range of applications, eliminating the need for a mixture of cards.

With the AP815, there is no scanning or multiplexing. Five excitation voltages are available, providing a measuring range of 8 to 80 mV/V (8,000 to 160,000: m/m), and a 0 volt listening mode to assess line noise. The AP815 provides an internal shunt resistor per channel that is switchable upon user demand. At 350 *, this configuration returns a detuning signal of 1.0078 mV/V (or 2015.6 um/m at k = 2) at an accuracy of < 0.2%, ensuring the highest possible measurement point accuracy.

With half bridges, the AP815 allows the active strain gage and a compensation strain gage to be arranged separately, and corrects the voltage loss at the connecting line. Full bridges are connected in HBM's standard 6-wire circuit. Transducer connection is made easy via two 25-pin sub-D connectors. 24-wire cable distribution boards are available to facilitate connection to screw terminals or RJ45 connectors.

About HBM
HBM, with U.S. headquarters located in Marlborough, Mass., is a leading global supplier of measurement technologies, products and solutions for industrial test and measurement applications. HBM provides complete measurement solutions - from sensor to software - for industrial and laboratory applications. Its wide range of measurement parameters includes force, torque, weight, strain, displacement and pressure. Primary markets include aerospace, automotive and manufacturing.

HBM is a wholly owned subsidiary of Spectris plc.

Contacts:

Media Contact:

Garner Communications

Jon Garner

949-646-0370

jon@garnerads.com

HBM Contact:

HBM, Inc.

Robert N. Davis

800-578-4260 x-423

robert.davis@hbm.com

HBM, Inc., 19 Bartlett Street, Marlborough, MA 01752 Tel. 800-578-4260, 508-624-4500 Fax 508-485-7907 www.hbm.com

More from Agricultural & Farming Products