Strain Gage Input Module offers 1,500 Vrms input-to-bus isolation.
Press Release Summary: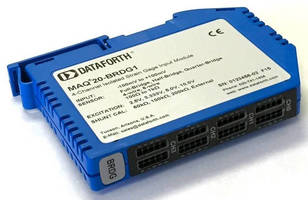 Able to interface to quarter, half, or full-bridge sensors using 4- or 6-wire connection, MAQ®20-BRDG1 provides 4 channels of strain gage input. Unit interfaces to transducers with nominal resistance of 100 Ω to 1 kΩ; four 24-bit data converters provide measurement capability with accuracy to ±0.05%; and anti-alias filtering eliminates signal degradation from environmental noise. Signal range, bridge excitation voltage, and sample rate are all user configurable.
---
Original Press Release:

Dataforth Continues to Grow MAQ®20 Family with Strain Gage Input Module



Dataforth's latest addition to the MAQ®20 Data Acquisition & Control System family is the MAQ20-BRDG1 strain gage input module. Each module provides 4 channels of strain gage input in a compact module that can interface to quarter, half, or full-bridge sensors using either a 4- or 6-wire connection.



The MAQ20-BRDG1 interfaces to transducers with a nominal resistance of 100Ω to 1kΩ. Four 24-bit data converters provide highly accurate measurement capability, while anti-alias filtering eliminates signal degradation from environmental noise. Signal isolation is an essential, and often overlooked, requirement for preserving signal integrity in harsh environments and where ultimate signal preservation is needed. This high performance MAQ20 module has robust 1500Vrms input-to-bus isolation; in addition, individual channels have overload and reverse protection on all field terminals to prevent module and system damage due to transient events or inadvertent wiring errors.



Signal range, bridge excitation voltage, and sample rate are all user-configurable parameters in this module. Signal bandwidth scales automatically with sample rate. Internal precision shunt calibration resistors and a zero-balance feature compensate for sensor inaccuracy, and internal bridge completion resistors are built-in for use with half-bridge and quarter bridge sensors.



Key MAQ20-BRDG1 features include:

• Interface to 100Ω through 1kΩ Strain Gages

• 24-bit Data Conversion

• ±0.05% Accuracy

• ±0.02% Linearity

• 100dB CMR

• Shunt-cal Resistance, 60kΩ, 100kΩ, 200kΩ, external

• Zero-Balance per Channel

• 1500Vrms Input-to-Bus Isolation

• Input Protection to 20Vrms Continuous

• ANSI/IEEE C37.90.1 Transient Protection

• -40°C to +85°C Operating Temperature



"The MAQ20 strain gage input module is so versatile," says John Lehman, Engineering Manager. "This multi-input, feature-laden product implements a high level of signal conditioning in a small package and takes the MAQ20 Data Acquisition System to the next level."



Signal sampling rate can be set to 200S/s continuous or to 1kS/s to 32kS/s burst with simultaneous sampling on all 4 channels and automatic signal filter scaling; internal memory in the module is used to capture burst samples of input signals.



Programmable signal gain allows full-scale input ranges of ±8mV to ±100mV. Strain gage excitation is provided from the module by a stable 2.5V, 3.333V, 5V, or 10V source.



For optimum process flow and fail-safe operations, high, high-high, low, and low-low alarms provide essential monitoring and warning functions.



Dataforth was established in 1984 and is the world leader in data acquisition and control, signal conditioning, and data communication products for industrial applications. Worldwide, our products provide rugged signal and data integrity and wide spectrum accuracy. All Dataforth products are manufactured in the USA and have been RoHS Compliant since 2006. The Dataforth Quality Management System is ISO9001:2008 registered.



For additional information, call 800-444-7644 toll-free, email sales@dataforth.com, or visit our website at www.dataforth.com

More from Machinery & Machining Tools