Stormwater Chamber offers storage capacity of 52.2 ft³/unit.
Press Release Summary: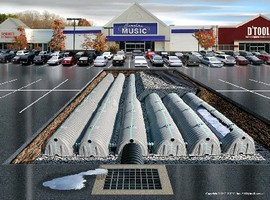 Measuring 30.5 in. high x 52 in. wide, and 8.5 ft long, Recharger® 330XL holds nearly 475 gallons and will provide minimum of 80 cu ft of storage when surrounded in stone. Two side portals allow manifolding to take place at any point within system, eliminating need to build external manifolds. Constructed of high-density polyethylene for chemical resistance, chamber can accept up to 24 in. dia pipe into endwall when greater flow rates are required.
---
Original Press Release:

Cultec, Inc. Introduces Larger, More Flexible Stormwater Chambers



BROOKFIELD, CT/February 6, 2008 - CULTEC, Inc. has introduced a newly redesigned stormwater detention/retention chamber that offers a number of added features and benefits including greater capacity, superior manifold design flexibility and enhanced shipping capabilities.

The new Recharger® 330XL stormwater chamber will be replacing the company's existing Recharger® 330 model and features a chamber storage capacity of 52.2 ft³/unit, an increase of more than 12% over the existing design. The added storage capacity has been enabled by extending the installed length of the chamber by three-quarters of a foot; the actual length has been increased by a full foot, the difference being used for the chambers to connect via overlap and to provide added strength to the overall system.

System flexibility has been enhanced by the inclusion of two side portals on each chamber. The use of these portals allows manifolding to take place at any point within the system, eliminating the need to build external manifolds, thereby condensing the system by decreasing the footprint required. The cross-feed capabilities enabled by the manifold's side portals offer greater flow than available from 18" diameter pipe. Each Recharger® 330XL chamber also has the ability of accepting up to a 24" diameter pipe into its endwall when greater flow rates need to be introduced.

The individual unit's extended length also offers the benefit of enhanced shipping economies. By increasing the length of the Recharger 330XL to its maximum shipping dimension, CULTEC is able to transport a 12% larger stormwater system, thereby cutting down on freight costs and the number of pieces required per system, providing lower shipping fees and product costs to the consumer.

The new Recharger® 330XL incorporates all of the distinctive key benefits of CULTEC chambers, including built-in endwalls for strength throughout the system and CULTEC's patented, overlapping rib connection, which allows for easy installation and a stronger connection between chambers. CULTEC's chambers are constructed of high-density polyethylene for greater chemical resistance to parking lot runoff and longevity of the system. The Recharger 330XL is 30.5 inches high, 52 inches wide and 8.5 feet long. It has a capacity of 7.5 cubic feet per linear foot and each chamber holds nearly 475 gallons, and will provide a minimum of approximately 80 cubic feet of storage provided per unit when surrounded in stone.

CULTEC, Inc., headquartered in Brookfield, Connecticut, is a national manufacturer of plastic chambers for stormwater and septic applications, as well as header and stormwater filter systems. CULTEC currently offers more types of chambers and a variety of sizes than any other chamber manufacturer. The company's Recharger® and Contactor® chambers are used extensively in Clean Water Act applications, and utilize strong polyethylene material, patented interlocking ribs and fully-formed endwalls to achieve long life and durability. For more information on the company and its products, call (800) 4-CULTEC, or visit www.cultec.com.

More from Computer Hardware & Peripherals